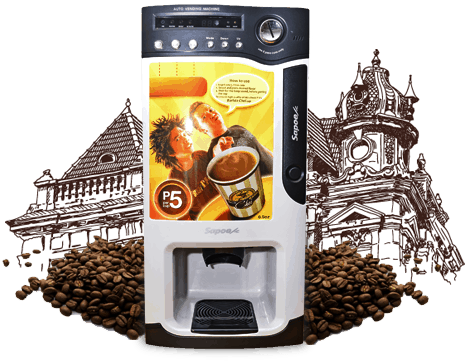 Vending is one form of business that requires little time management and maintenance. It does not require an employee that will manage it every day. This business is a good source of residual income, where you can earn money while you sleep. It has also the possibility of getting money to your pocket 24/7.
Vending, like other businesses, is not an easy success. To make it a profitable business in the Philippines, it still requires careful studying of the location, potential market, and also the concentration of people in the area. Here are some of the vending machines you might get interested in investing in.
Coffee Vending Machines
A lot of people drink coffee every day. Some drink from twice to several times a day. With the increased population of night-shift workers, a coffee vending machine placed inside a commercial building or establishment can serve these workers day in and day out, 24/7 and no commercial break.
One of the popular coffee vending companies is Barista Choi, which started doing its coffee vending franchising in 2012. They offer the machine itself and the supplies (coffee, sugar, cup) at a minimum investment of around 12,800 PhP. They have no franchise fee and the supplies for replenishment are bought from them.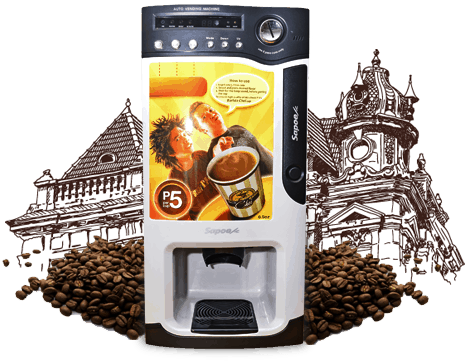 Each cup is sold for 5 pesos. Excluding the costs (supplies and electricity), each cup gives a profit of 2.15 pesos. The monthly profit depends on how many cups are sold per day. If you can sell 100 cups per day for a month, the return of investment is only 2 months.



The maintenance for these kinds of machines is from medium to high because of the fact that they require electricity to operate.
Buy on Alibaba
We did some research and found the best deals for Coffee Vending Machines on Alibaba. You are of course ordering from China, but today – everything is manufactured and shipped from there, so you better order directly from the Manufacturer. We evaluated the best manufacturers with the most experience and good reviews.
Here are a few samples of Coffee Vending Machines that you can buy on Alibaba:
1. CECLE Coffee Vending Machine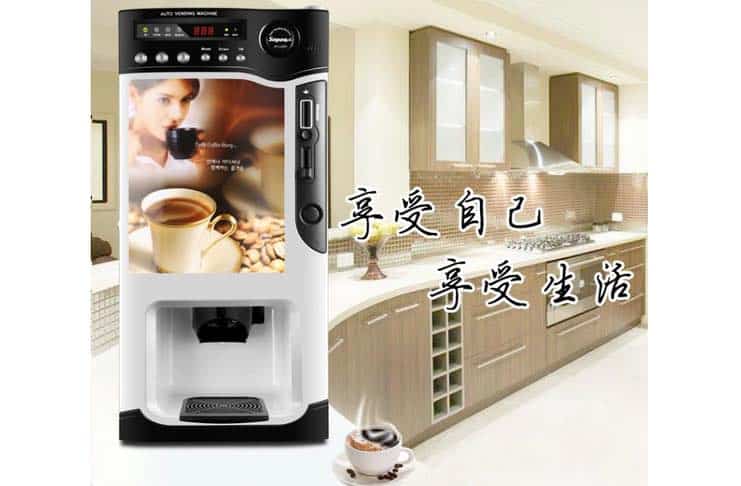 According to the manufacturer:
Each machine is manufactured by its professional experienced staff.
The production process is under strict supervision and according to international standards.
The warranty is for one year. The quick-wear part is excluded.
When the warranty date expires, lifetime maintenance service is provided.
The manufacturer can also provide PVC, PE films, BOPP films, stamping dies, hot foil papers, etc.

2. Wifi Coffee Vending Machine with Android System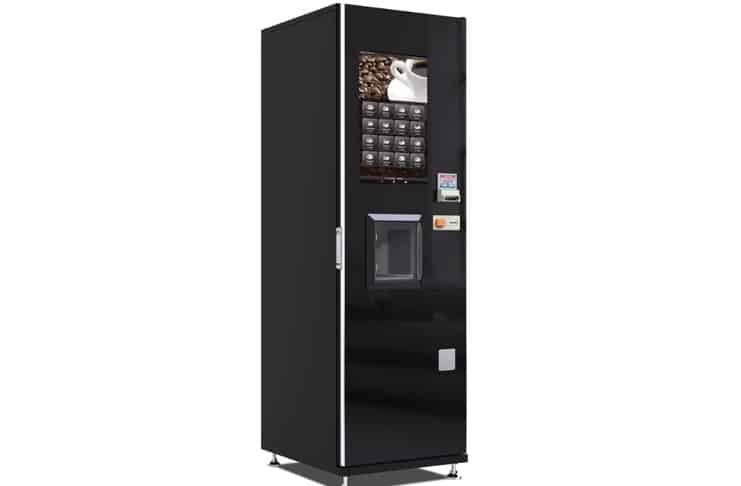 Product Name
Freshly Ground Coffee Vending Machine
Model No.
LE308B
Dimension
1760x560x650mm
Power Specification
AC220V/50Hz or AC110V/60Hz
No. Of Canister
1 Bean Canister + 4 Powder Canisters
Bean Canister
8.6L
Powder Canister
3 KG/ Canister
Beverage Type
16 kinds of hot drinks
Temperature Control System
Hot drinks 105 ℃ max
Water Supplying
Pump
Cup Storage & Size
About 350 pieces of 7 ounce paper cups in 5 barrels
Payment System
Coin and Paper bills, Cashless payment available
Main Assembling Parts
– Main board and Power board (2 in 1) × 1pc

-21.5 inch infrared tough screen × 1pc                         Single point operation and play ads in video; Android system+ Remote control automatically

– 1 into 3 out electromagnetic valve × 1pc

– Powder motor × 3pcs, 130R/m

– Mixer × 3pcs, 7800R/m

-Grinders kit 1pc

-Coffee brewing kit 1pc

-Coffee bean box 1 pc

-Instant canister 4pcs

– Waste water box × 1pc

– Boiler/heater × 1pc,

– Water tank × 1pc, placed inside

– Coin receiver × 1pc,                                                        – Bill receiver x 1,       – Coin changer x 1

– Transformer × 1pc

– Cup dispenser × 1pc, hold about 350pcs of 7o.z paper cups

– Exhaust fan motor × 1pc
warranty:12 months
About the Manufacturer:
Established in 2002, Hangzhou Yile Vending Manufacturing Co., Ltd. is one of the largest privately-owned vending machine operators in China, with 200 staff dedicated to customer service.
Design and technology: Depending on qualified designers and technicians from China and Italy, as well as top-grade production plants, Hangzhou Yile's products are developed and produced synchronously. In recent years, their products have been sold to clients from over 50 countries and regions. They can also provide OEM products for branded food companies around the world.

Hygiene Vending Machines
Random calls of nature can occur in any part of the day. What if you get your call in a public place where toilet tissues, a pail of water and your lovely "tabo" are not with you? Good thing is there are vending machines that offer tissues and other toiletries 24/7.
One company that offers this service is the Vendo Corporation. They manufacture mechanical vending machines that dispense tissues, sanitary napkins, wet wipes, and panty liners. You may have seen and used one of their machines at major establishments such as malls and other commercial buildings.
Vendo Corp offers three ways to operate their machines. The first way is they will be the one to operate on your establishment for free and they will be the one to do the refilling of supplies. The second is you can rent the machine for free and you are required to purchase supplies from them on a yearly basis and you will do the refilling. Lastly is you can purchase your own machine, choose where to get the supplies and do the refills.


These machines have little maintenance because they do not require electricity to operate. You only have to regularly refill their stocks to ensure they are available 24/7 to costumers.
Buy on Alibaba
We did our research and evaluated the best offers on Alibaba and selected the suppliers with the most experience and good reviews. Please check out our recommendations below:
Snacks and Beverage Vending Machines
Need to quench your thirst or have a light snack? These machines will surely be convenient to you. They are very easy to use and are more suitable for people who don't prefer going out and lining up inside supermarkets just to buy 1 or 2 products. These will benefit people who need quick refreshments on their busy schedules.
There are quite a few companies in China that provide top of the art Snacks and Beverage vending machines. Let's face it – everything is manufactured today in China. They learned how to be the No. 1 Manufacturer of the world.
They offer a wide variety of snack and drink items. Customers can choose from many different snacks, different kinds of bottle refreshments and different kinds of canned drinks. The parts are all fully automated.
A little investment is required to acquire the machine. We did some research on Alibaba, the biggest and safest online store in Asia. We looked for the best deals for Snacks and beverage Vending machines, but also looked for the most experienced manufacturers with the best reviews.
Buy on Alibaba:
Here are a few options that you can check on Alibaba:
1. XY Snacks and Drinks Vending Machine (with Hot Water Dispenser)

This is a Snacks and Drinks vending machine with a hot water dispenser.
Here are the specifications:
Color: White, Black, Custom Color
Cooling system: With R134a Refrigerating Fluid
Material: Stainless Steel
Locations: Indoor or Outdoor Under Shelter
Certificate:CE, FCC, ISO9001
Application: Instant Noodles
Optional: Customizable
Payment system: Coin, Bill, Credit card.
Supply Ability:
Packaging & Delivery: Standard export delivery
Plastic film inside and wooden box outside with wooden pallet
Port: Shanghai, Shenzhen
Lead Time: 1-10 pcs within 2 weeks / 10-50 pcs within 30 days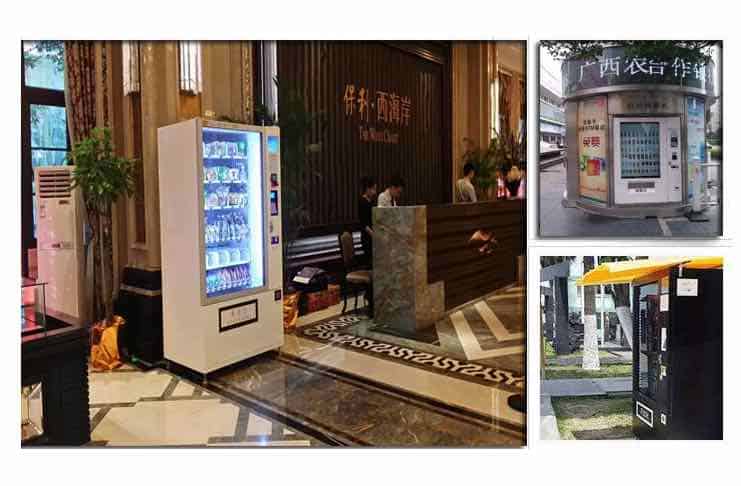 2. CSCPower Beverage, Snacks and Food Vending Machine 

Features:
This vending machine can hold up to 23 different kinds of drinks with a maximum reserve of 420 bottles.

Cloud management: You can check product sales info at any time online.

The 42 inch LCD touch display can be purchased when you buy more than one machine.

The machine has an imported compression refrigeration system, which can refrigerate and heat.

This machine is sold by the manufacturer direct selling and supports customization.

The machine supports paper money, coins and has a change function, also supports alipay and wechat pay.

Power loss protection and memory function.

Leakage protection function.
About the Manufacturer:
FUJIAN CENTURY SEA GROUP CO.,LTD. (CSC GROUP) is located in FUZHOU city of FUJIAN province in China. The company was founded in 2005. Its CSCPOWER ICE MACHINE CO.,LTD R & D provides production of ice machines, including flake ice machine series, tube ice machine series, cube ice machine series, block ice machine series, packing ice machines, complete set of refrigeration equipment, and provides pre-sales support, design, production, complete sets of installation and debugging, customer training, etc.
Loading Vending Machines
Need to call on an important matter but your prepaid credits have run out? These vending machines are in the right place at the right time for you! They are convenient and safe because all are automated. They accept paper bills and coins as well.
There are several companies that distribute these kinds of vending machines, like the Philippine Vending Corporation. The machines are usually very easy to use and they offer prepaid credits not only to mobile phone users but also for e-games, broadband service, cable TV service, landline service, and music as well.
The minimum investment is around 10,000 PhP, which includes the franchise fee (5,000 PhP) and the initial load balance (5,000). The return of investment is from 4-5 months depending on the monthly sales. You get a minimum of 4% profit on cell phone load and 3% profit on other services.
The machines have a low consumption of only around 12 kWh every month. It has built-in security system with alarm and motion sensors to prevent vandalism and theft. Remittance of load and commission monthly is fully automated. The franchisee will just collect the cash generated by the machine and deposit the collection to the company, which then replenishes the balance of the machine.
Things to Consider
Vending Machines are business with small capital, maintenance, and risk but grants high rewards. On the other hand, location plays a crucial role in the success on this venture. People want convenience and instant availability and these machines offer give that need and your job is to provide that need with minimum to no error. If your machine suffers an error or defect, you may lose a lot of customers because first impression lasts. One dissatisfied customer can spread his or her experience to a lot of people he or she knows.
TJ is an alumnus of the University of the Philippines Diliman. He is currently running an online business from home. He writes business articles for passion. On his free time he plays Dota 2. He simply wants to be a good son, brother, boyfriend, and Filipino citizen.