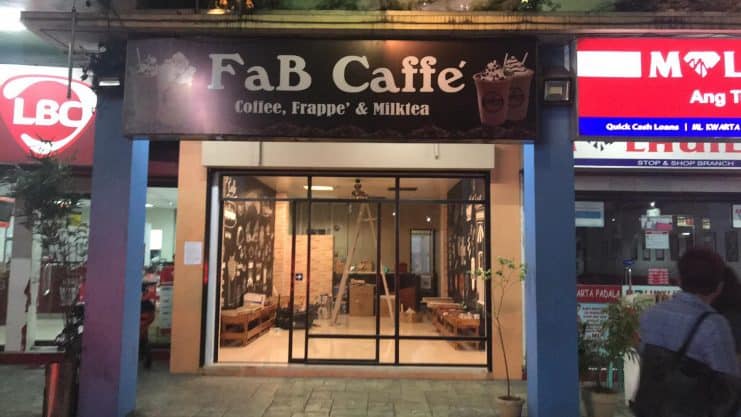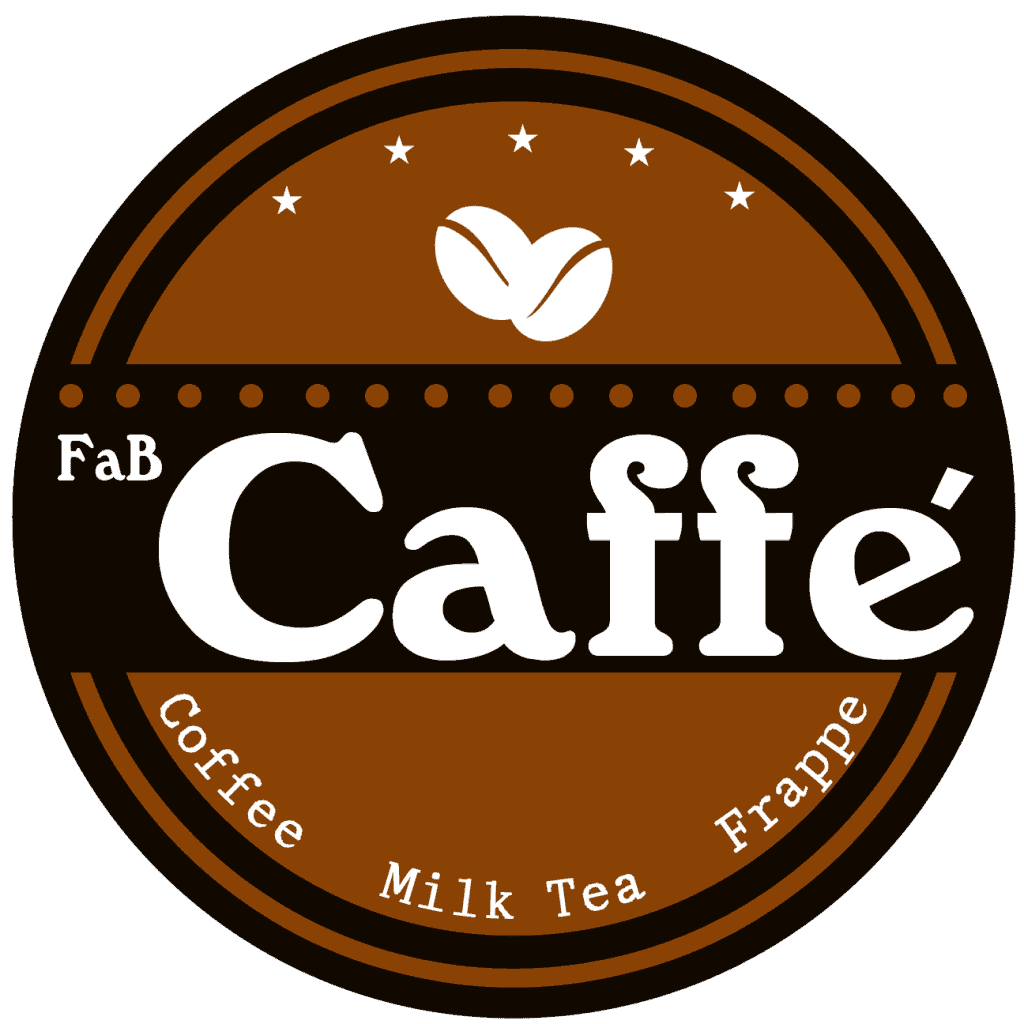 Everyone loves coffee. It's become one of our utmost necessities in this hectic busy lifestyle, where we constantly need that energy to keep on going. So you're looking for a Coffee Franchise? you may know the big famous ones, like Starbucks and Coffee Bean, but these are super expensive to start a franchise. If you're looking for a more affordable Coffee franchise – read on.
FaB Caffe is a great coffee shop alternative to Starbucks or Coffee Bean. This local concept of a coffee franchise is offered nationwide by Fabsuffrage Inc.
This franchise has a promising high probability of success as it offers tested quality products (pizzas, burgers, fries, frappe, milk tea, nachos, dimsums, waffle and etc.) that all ages love.
The FaB Caffe franchise introduces a new way to enjoy your regular break time. It also serves breakfast, lunch, and dinner. It's a Coffee shop that sells products from the very own proven concepts such as Star Frappe', Heaven's Hamburger, Chow Meals and more. With the addition of 4 new brand concepts, it will surely boost sales. Fab Caffe' is now open for franchisees and starts at P499,000 Only. See the complete package inclusions and freebies for the first 10 Franchisees.
FaB Caffe' Products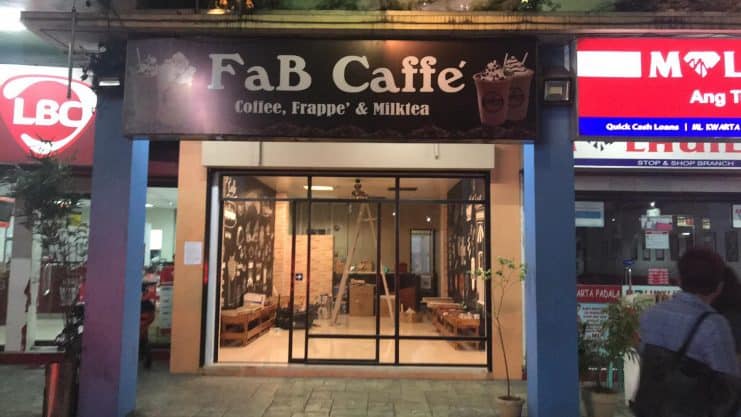 Milk Tea – (Winter melon milk tea, Swiss Mocha milk tea, Taro milk tea & Chocolate milk tea)
Frappe'– (Cappuccino, Cafe Mocha, Caramel Latte'. Coffee Expresso, Coffee Hazel Nut)
(Cookies & Cream, Dark Forest, Double Dutch, Choco Java, Choco fudge)
(Mango Graham, Strawberry Chips, Ube Macapuno, Vanilla Overload, Buco Salad)
Hot Coffee – Cappuccino, Chocolate coffee, Brown coffee, Brown Coffee, 3 in 1 coffee, White coffee)
Pizza – (Hawaiian, Ham and cheese, Bacon & mushroom, Pepperoni, Supreme)
Hamburger – (Burger with egg or cheese, Footlong, Sausages, and french fries)
Rice Meals – (Beef chow, Spring roll chow, Tocilog, Tapsilog, Longsilog Etc)
Nachos & Tacos – (Variety of Nachos and chessy tacos)
Waffle – (Belgian Waffles)
Shawarma – (Pure beef shawarma)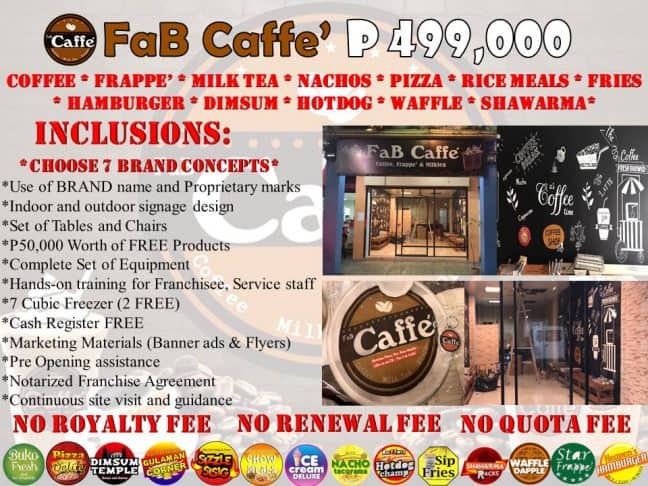 Fab Caffe Franchise Fee includes
Use of Trade name and Proprietary marks
Site Approval and assistance
Hands-on training for Franchisee, Service staff
Indoor and outdoor signage design
Marketing assistance
Pre Opening assistance
Continuous research and development
Continuous site visit and guidance
Other Information:
Franchise Term is 1 year and its renewable without fee
Total Investment is P499,000
Required space must be at least 30-40 sqm
Location must be available upon signing the franchise agreement
FaB Caffe' Advantages
It offers a variety of products such as frappe', milk tea, pizza, hamburger and rice meals that suit every age bracket
Easy to operate with continuous guidance and product development
Low capital investment with less than 12 months ROI
No royalty fee, No Renewal fee, No Advertising fee
Well known brand, Proven and tested products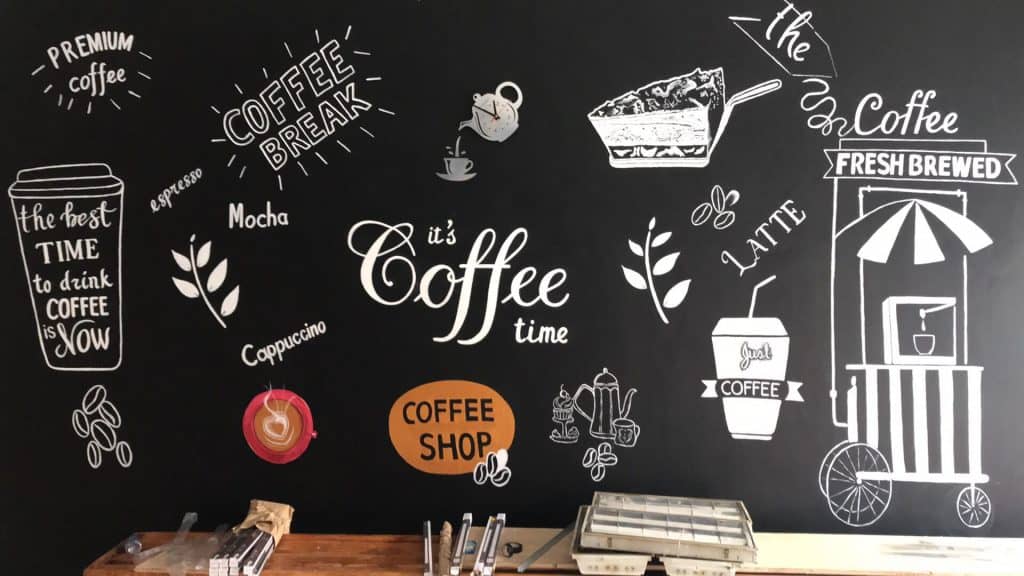 Contact Details:
If you need more information regarding Star Frappe' Cafe Franchise, you may contact them through there contact details below.
Website: https://www.foodcartsfranchise.com/fab-caffe.html
www.starfrappe.net / www.fabsuffrage.com
Facebook Page: https://www.facebook.com/FaBCaffeOfficial/
Email Add: franchiseinquiry101@gmail.com
Phone Nos : (02) 509-1049 , 0915-2828213, 0918-8073575
Office Add: Ground flr. #17A St. Martin bldg. Westpoint St. Cubao, Quezon City