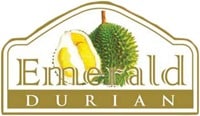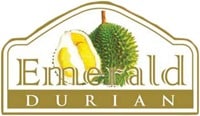 Emerald Durian was born in 2006 in Davao by a couple at the time when they were having a hard time selling the extra durian fruits they were harvesting from their farms.  Their initial source of income was selling the durian fruits that are being harvested from 6000 durian trees on their 50 hectares farms but there were times that selling those much fruits were giving them a hard time and a lot goes to waste.  They then had an idea of using the extra durian to produce quality pastries and "pasalubong" goods.
Emerald Durian was inaugurated on June 14, 2006 and since then, became known for producing quality durian products in Davao.  They initially produced durian jams but now has over ten kinds of homemade goods and pastries.  Some of its products include durian filled pastries such as tarts, pastillas, empanada, hopia, polvoron, yema, cookies, cake, Brazo de Mercedes, roll, pie, pudding and buns.  They also offer other seasonal fruit-filled products such as pineapple, ube, macapuno and pumpkin.
They were given an Award of Excellence by Davao City's Chamber of Commerce & Industry, Inc. for their Durian Jam for being one of the accredited brands of the Davao Branding Program and which also achieved the minimum criteria and qualifications for quality and safety standards.
The goal of Emerald Durian is for their products to not only be available in Mindanao but throughout the Philippines.  They are now offering franchise opportunities to those who are interested in distributing their products.  Their franchising system was developed with the help of RK Franchise Consultancy Inc.  They are also a proud member of the Filipino International Franchise Association (FIFA).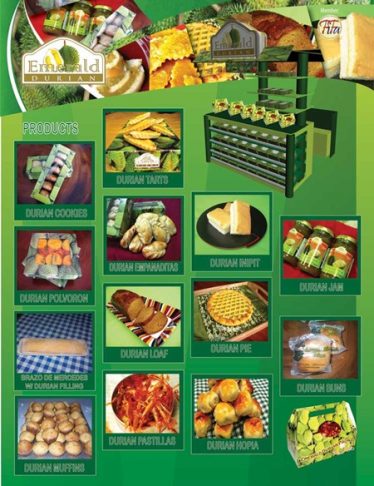 Above are the products by Emerald Durian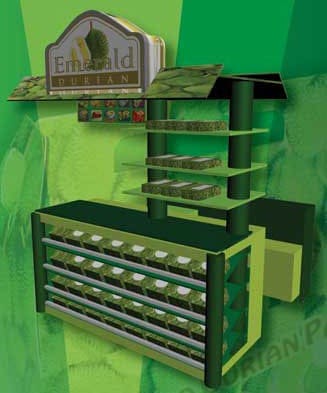 Above is an image of Emerald Durian's Food Cart
Franchising Packages
Emerald Durian is offering two types of franchising packages.  They are:
A. Cart Franchise
Franchise Fee: P180,000
Minimum Space Requirement: 4 square meters
Inclusions:
Trade Name and Proprietary Marks
Site Approval

Cart

on loan
First delivery of goods
Training for Franchisee and Sales Staff
Procurement program
Marketing Assistance
Opening Assistance
Operations Manual
Initial Term: 5 years
Capital Requirement: P350,000
Royalty: None
Advertisement Fund: None
B. Area Franchise
Franchise Fee: P350,000
Minimum Space Requirement: 80 square meters
Inclusions:
Trade Name and Proprietary Marks
Site Approval
Training of Franchisee
Procurement Program
Marketing Assistance
Operations Manual
Research & Development
Rights to 3 carts location
Initial Term: 7 years
Capital Requirements: P 2 Million estimated
Royalty: 3% of gross sales
How to Franchise Emerald Durian
Send them your comprehensive resume together with your Letter of Intent to their office address.
The company will then review your application.
You will be invited to discuss the franchise details
Your proposed location will be examined
The Franchise Agreement will be executed
Outlet set-up and staff training will begin
They will provide pre-opening and marketing assistance
Your Grand Opening
Contact Details
Website: www.rkfranchise.com/wefranchise/durian/index.php
Telephone no.: (084)218-7158
Fax no.: (084)370-1986
Address: Emerald Durian Palace, Zafra Highway, Apokon Road, Tagum City, Philippines
Contact them also through RK Franchising Consultancy: 
Manila Branch:
Email: rk@rkfranchise.com, rkfranchiseconsultancy@yahoo.com 
Phone nos.: (02)912-2946, (02)912-2973, (02)955-0734
Fax no.: (02)911-1966, (02)912-2973
Cebu Branch:
Email: rkcebu@gmail.com
Phone nos.: (032)253-5010, (032)254-0473
Address: RK Franchise Consultancy Inc., G/F Minnesota Mansion, 267 Ermin Garcia St., Cubao, Quezon City, Philippines
Jack is a self-made entrepreneur, who actually started out in the Military, then worked for the Government for a few years, until he finally made that bold step and started out his own online and offline businesses. He's never looked back ever since, and hasn't been happier…