Pao Pao Xiao Chi was founded in 2009 by Café 88 Food Concept Corp., a Philippine company established in March of 2008.  The words Pao Pao is a Chinese word which means very full while xiao chi means small snacks.  The owner of Pao Pao Xiao Chi was inspired by a beverage stall that's been doing well among the school kids in Taiwan and he wanted to bring this same concept to the Philippines.  Their first line of products were a variety of teas which include fruit teas, milk teas and taro milk.  They then added a variety of Taiwanese snacks, noodles and rice toppings.
The following are the choices of fruit teas that they offer – Green Apple, Lychee, Kiwi, Champagne Grapes, Fresh Orange Lemon, Honeydew Melon, Mixed Fruits, Strawberry, Mulberry and Honey Peach.  Customers have also the option to add this add-ons – chewy pearls, coffee jelly, nata jelly, lemon jelly, almond jelly, strawberry pudding, mango pudding, egg pudding, and chocolate pudding.
Their pearl milk tea, or bubble tea, and taro milk choices are the Pearl Milk Tea, Almond Milk Tea, Choco Milk Tea, Yakult Green Tea, Taro Milk, Coffee Milk Tea, Fresh Jasmine Green Tea, and Fresh Jasmine Milk Green Tea.
They also offer a variety of frappes which include the flavors coffee, vanilla, mocha, white choco and cookies and cream.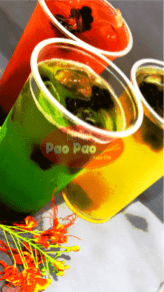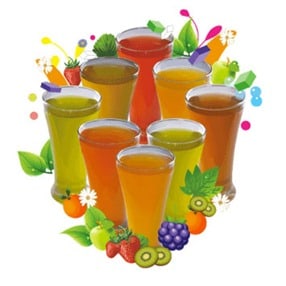 These images are products of Pao Pao Xiao Chi's taken from their website
Pao Pao Xiao Chi Franchise Fee
Pao Pao Xiao Chi franchise package costs P350,000

Franchise Package Inclusions
Pao Pao Xiao Chi customized food cart with complete equipment
initial inventory
dispensers and sealing machines
site evaluation approval
use of trade name and proprietary marks
use of operational manual
personnel training
staff uniforms
opening assistance
continuous product research and development
centralized procurement
assistance in processing of government permits
Franchise Package Requirements
minimum space requirement of 2m x 2m
initial franchise term is (3) years, renewable
Contact Details
If you are interested in getting a franchise, submit a letter of intent with your complete details and send them to the address written below or send it through their email address.
Website: www.paopao.com.ph
Email: info@paopao.com.ph
Telephone no: (02)497-7244
Address: Pao Pao Xiao Chi, #17 General De Jesus street, cor. General Lim street, Little Baguio, San Juan City, Philippines.
Jack is a self-made entrepreneur, who actually started out in the Military, then worked for the Government for a few years, until he finally made that bold step and started out his own online and offline businesses. He's never looked back ever since, and hasn't been happier…