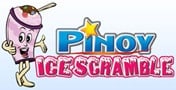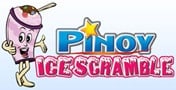 Pinoy Ice Scramble Food Cart Franchise is a product of Empeño-Reyes Foods Co. Ltd., a company based here in the Philippines.  This food cart serves a cleaner and safer version of one of the simplest and famous Philippine street foods, the ice scramble.
If you've never seen or tasted an ice scramble before, it's a colorful mixture of crushed ice, evaporated milk, sugar, powdered milk and different toppings such as M&Ms, rice crispies to make it more delectable.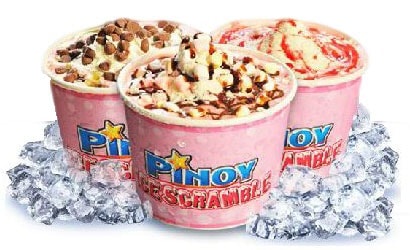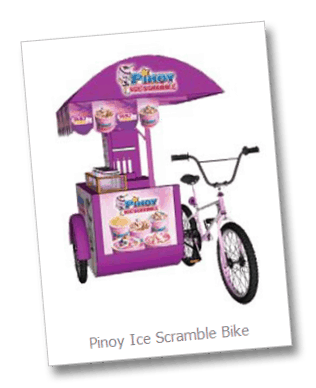 Food Cart Franchise Fee
Here are the Food Cart Franchise Packages that are available for Pinoy Ice Scramble:
Food Cart: P125,000
Bike: P85,000
Food Cart Franchise Inclusions
This food cart franchise package includes the following items:
no royalty fee
no percentage on sale
standard size food cart
business start-up assistance
site selection and evaluation assistance
right to use of trademark, name and logo
equipment lists and specifications
initial inventory / supplies worth P10,000
two sets of fashionable uniforms
training of service crew for three days
continues operational support
marketing, advertising and promotional assistance
pre-opening, opening and post-opening assistance
assistance on processing of business papers
assistance in hiring and selection of service crew
P500,000 worth of fire and comprehensive general liability insurance (mall outlet)
Contact Details
Below are the contact details of Empeño-Reyes Foods Co. Ltd.
Website: erfoods.com
Email: info@erfoods.com
Address: Suites 503-504, West Trade Center, 132 West Ave., Quezon City, Philippines.  Landmark – It's in front of Capital City Baptist Church
Telephone no.: (02)921-9474, (02)921-9476
Telefax no.: (02)441-2651
(updated Sept. 30, 2012)
Jack is a self-made entrepreneur, who actually started out in the Military, then worked for the Government for a few years, until he finally made that bold step and started out his own online and offline businesses. He's never looked back ever since, and hasn't been happier…