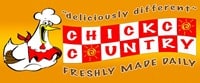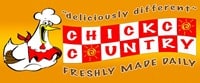 Chickco Country Chicken started from the company Aragoza Enterprises, which was established in 2003 under a sole proprietorship.  The company started out as a manufacturer and distributor of several food items under the brand name Pinoy Cocktails.
It was in August of 2006 when Chickco Country Chicken was launched.  They offer their very own roasted and fried chicken products.
Since 2006, they have already multiplied their branches to more than 50 outlets around the Philippines.  They had the help of Francorp to develop their franchise system and they are also a member of the Philippine Franchise Association (PFA).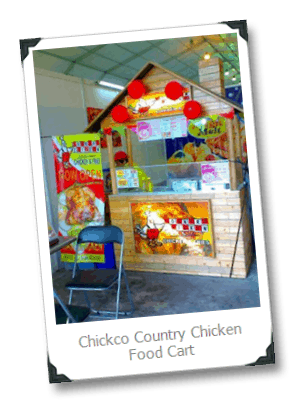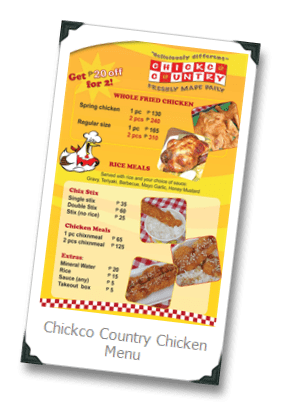 Franchise Fee
Chickco Country Chicken Franchise Fee costs P100,000
Total Capital Investment for whole package is P200,000
Franchise Fee Inclusions
As a Chickco Country Chicken Franchisee, you are entitled of the following:
use

of trademark and logo

site

evaluation assistance

management

and operations training

nationwide

advertising support

franchise

operations manual

opening

supervision

continuous

support

continuous

product development and innovation

kiosk

equipment

staff

uniforms

signage

initial

inventory and supplies
Other Information
Initial term is three years, renewable for another three years and then four years.  Total of ten years maximum.
To apply for a franchise, you should submit the following to the Chickco Country Chicken office:
Letter of Intent
Filled

out

Franchisee Pre-qualification Form
Resume with colored ID photo
Site location proposal with vicinity map and description of the site
Contact Details
If you need more information regarding the Chickco Country Chicken Franchise, contact their office through their contact details below:
Email: chickcofranchise@yahoo.com, franchising@chickcocountrychicken.com
Telephone nos.: (02)828-2464, (02)994-3051, (02)994-5217
Mobile nos.: 0917-838-4887, 0917-539-2816, 0917-887-2816, 0922-859-77-05
Address: Unit 303 Nogami II Bldg., #97 Doña Soledad Ave., Betterliving, Parañaque City, Philippines
Jack is a self-made entrepreneur, who actually started out in the Military, then worked for the Government for a few years, until he finally made that bold step and started out his own online and offline businesses. He's never looked back ever since, and hasn't been happier…