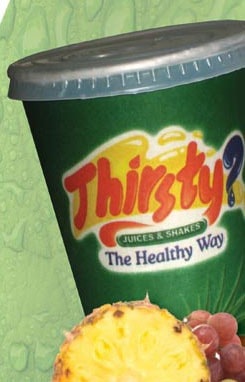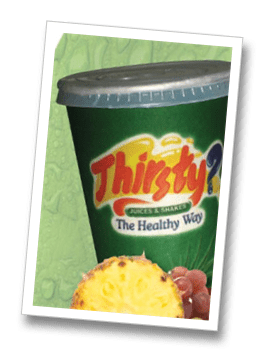 Thirsty? Juices and Shakes started operating in December of 1993 offering a variety of fruit juices and fruit shakes.  After 3 years with only 2 outlets and with both having difficulties, the Pages family bought the business from the original owners on November 16, 1996.  They then started transforming some aspects of this business.  From the visual design and presentations of the logo, cups, and the entire food cart to changes in the product line, they made Thirsty? into a more profitable and competitive business system.
All the transformation proved to be successful as Thirsty? began growing and expanding from the 2 floundering outlets to over 70 outlets scattered all over the Philippines.
Thirsty? is open for franchising. Their franchising system was developed with the help of RK Franchise Consultancy Inc.  They are also a member of the Filipino International Franchise Association (FIFA).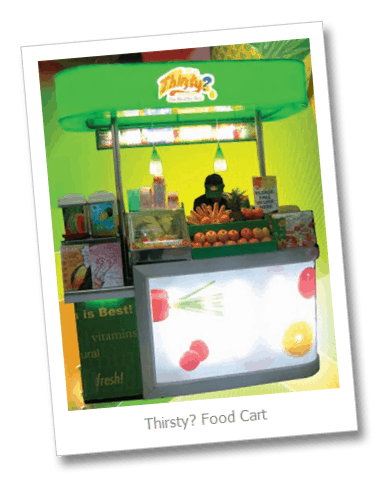 Thirsty Franchise Fee
Franchise fee of Thirsty? Food Cart Package is P250,000.  Estimated Franchise Capital Investment is P400,000.
Franchise Inclusions
Inclusions of the franchise package are:
trade name and proprietary marks
location approval
training for franchisee and outlet staff
procurement program
opening assistance
operational manual
research and development
food cart
Other Information
Initial term of 5 years.
Continuation fee – P6,000 per month
Minimum space required – 4 square meters
Contact Details
Website: www.rkfranchise.com/wefranchise/thirsty/index.htm
Contact them also through RK Franchising Consultancy: 
Manila Branch:
Email: rk@rkfranchise.com, rkfranchiseconsultancy@yahoo.com 
Phone nos.: (02)912-2946, (02)912-2973, (02)955-0734
Fax no.: (02)911-1966, (02)912-2973
Cebu Branch:
Email: rkcebu@gmail.com
Phone nos.: (032)253-5010, (032)254-0473
Address: RK Franchise Consultancy Inc., G/F Minnesota Mansion, 267 Ermin Garcia St., Cubao, Quezon City, Philippines
Jack is a self-made entrepreneur, who actually started out in the Military, then worked for the Government for a few years, until he finally made that bold step and started out his own online and offline businesses. He's never looked back ever since, and hasn't been happier…