Animaland was started in the United Stated and was brought here by Mrs. Belinda Dy, while Mrs. Belinda and her daughter were on a vacation back in 2004, saw a store where the customers can make their own stuffed toy.  Her daughter then wished that there was a store like that in the Philippines and right then and there, Mrs. Belinda thought of bringing the Animaland Franchise to the Philippines.  Within the year, negotiations between Animaland and Mrs. Belinda for a franchise were in the works and in 2005 the first Animaland Franchise was born here in Rockwell Powerplant Mall Makati, Philippines.
Animaland has two franchise products, a cart and typical in-line stores. In-line stores are found in enclosed stores which have their own space within the shopping mall and for those who are wondering what the Animaland products are, here is a short list:
Stuffed toys
Animal skins
Wishing stars
Birth certificates
Animal outfits
Condo boxes for the stuffed toy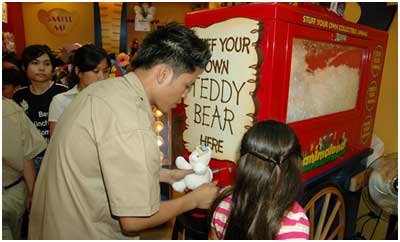 Animaland isn't a seasonal franchise meaning having profit can happen year round as people in the Philippines are naturally gift givers so expect people buying for every occasion and with its low cost of investment, it is surely a no brainer to get this franchise.
Franchise fee for Animaland is 200,000 to 350,000 pesos with a total initial investment ranging from 500,000 to 1,000,000 depending on the franchise package purchased and the size of the location and the rental rates.  Standard Animaland franchise package include the franchise fee, outlet renovation, equipment, furniture and fixture, operating expense, initial inventory, photo booth, rental advance and deposits with the expected return of investment of 1 year to 1 and a half year.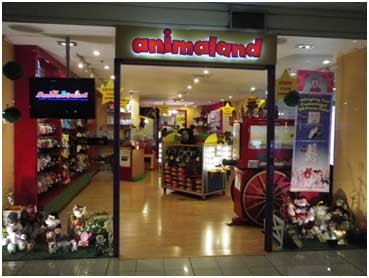 Animaland does not collect royalty fees but instead the franchisee will have a minimum buying budget per quarter based on target sales. In regards to location, franchisee must send a proposal but Animaland may also assist in the selection of location.  Initial franchise contract is 3 years and can be renewed for an additional of 3 years.  They offer support during the set up and on-going assistance after set up, franchisee will receive periodic visits for consultation in inventory management, customer relationship and inquiries by franchisee.  They will also provide supply of products and the development of products and services.  They will provide guides for promotion and a system-wide marketing which will benefit all franchisees within the country.
For applying a franchise, fill up the Business Opportunity Password Request Form on their website and upon reviewing your details, they will send you a password or you can simple send an email to Ms. Milyn Tan, Brand Manager for Animaland via the contact details below.
Animaland Franchise: Contact Details
For additional information regarding the Animaland franchise, you can contact them through any of their details below:
Website: www.animaland.com
Email: animaland_phil@yahoo.com, animaland.singapore@gmail.com
Facebook Page: www.facebook.com/AnimalandStuffery
Phone Nos.: (02)561-2380, (02)563-7881
Mobile No.: 0917-526-1378
Address: 1400 Pres. Quirino Ave. corner South Super Highway, Paco Manila, 1007, Philippines
Jack is a self-made entrepreneur, who actually started out in the Military, then worked for the Government for a few years, until he finally made that bold step and started out his own online and offline businesses. He's never looked back ever since, and hasn't been happier…