Join the European leader in home delivery of quality pet food!
Since 1987, the Swedish home delivery pet food company Husse (www.husse.com) has grown more than 20% per year with a business model proven successful in 40 countries.
Husse is now looking for an enthusiastic, motivated and entrepreneurial master franchisee to develop the Philippine market.
As a Husse master franchisee, you will get exclusive rights to the Husse trademark and product range for an agreed area where you will develop a network of franchisees.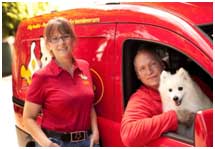 You will benefit from attractive product margins, trainings in sales and marketing techniques as well as in products and nutritional consultation. You will receive daily support from Husse's office in Stockholm, financial marketing support as well as access to an online shop, back office system and a start-up profile package.
Husse is looking for business minded entrepreneurs with a passion for sales and high personal standard of quality and service. Prior managerial experience, the capacity to work independently and to build customer relations are also highly valued in the role as Husse master franchisee.
Husse Master Franchise: Contact Details
If interested please contact Ms. Hong Cui, on hong@husse.com or
Phone: +46 8 5025 5711 and she will be happy to tell you more.

Jack is a self-made entrepreneur, who actually started out in the Military, then worked for the Government for a few years, until he finally made that bold step and started out his own online and offline businesses. He's never looked back ever since, and hasn't been happier…