Mr. Quickie was the brain child of Mr. Emiliano R. Caruncho III in 1981, he noticed that there was a need for shoe and bag repairers.  In 1981, most shoe and bag repairers were found in the streets offering their services to people.  Mr. Caruncho noticed that there was no place where people could go to have their shoes and bags repaired by people they can trust, by people that could surely fix it and because of these reasons Mr. Quickie was established.
Mr. Quickie offers services such as shoe dye, shoe shine, shoe expansion and fixing the sole of your shoe.  For bags, they offer bag care and bag dye services.  They also offer as part of their services key duplication and locksmith services, rubber stamps and bag tags.  With more than 23 years of experience, Mr. Quickie can surely restore your shoes and bags like it was brand new.
The Mr. Quickie franchise is being offered to those interested individuals.  They give pride to their belief that they are recession proof.  You may obtain a franchise by filling up the Mr. Quickie Franchising Primer, Franchise Application Evaluation form.  If all qualifications have been met, they will call you up and set an interview.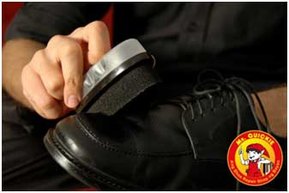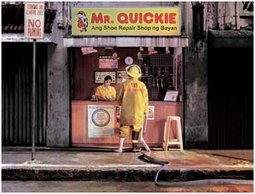 Franchise fee is 250,000 pesos with a cash bond of 25,000 pesos.  Cost of machinery could go up to 800,000 pesos.  This includes the stitcher, finishing machine, sewing machine, key duplicating machine and rubber stamp and inventory supplies that range from 60,000 to 80,000 pesos.  Renovation cost can range from 150,000 pesos to 250,000 pesos.  Royalty fee is at 3% of the monthly gross and advertising fee is 4% of the monthly gross.  The store requires at least 10-15 square meters in space.  The franchise is renewable for 5 years and it also has an estimated return of investment of 3 years.
Contact Details
If you need more information regarding the Mr. Quickie Franchise, you may contact them through their contact information below:
Website: www.mrquickie.com
Facebook Page: www.facebook.com/mrquickie.ph
Twitter: www.twitter.com/MrquickiePH
Email: franchising@mrquickie.com, jasonarcangel@mrquickie.com
Phone No.: (02)671-9541
Fax No.: (02)671-9542
Address: Banner St. cor. Danny Floro St., Bagong Ilog, Pasig City, Philippines
Jack is a self-made entrepreneur, who actually started out in the Military, then worked for the Government for a few years, until he finally made that bold step and started out his own online and offline businesses. He's never looked back ever since, and hasn't been happier…