Munsterific Convenience Store is a 24-hour store that aims to deliver good customer service satisfaction and provide a variety of goods item in a safe and convenient ambiance. It had started its operation last September 27, 2004 and for nearly a decade now they have shown their enormous business growth and success by achieving several numbers of branches nationwide. They expand their endeavor by opening a franchising opportunity to the public. Thus, considering a Munsterific franchise will surely give you a munsterific return of investment on your prospected business venture.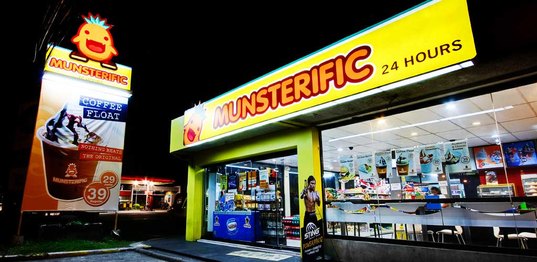 Munsterific Franchise: How Much Is It?  
For Php 2.5 million you can already open a Munsterific Convenience Store along with others who have already savored the fruit of their investment. Just as easy as that! Availing of Munsterific franchise will save you from the hassle of preparing the many things to consider in opening a convenience store because their franchise package had almost has everything to offer. Included in the franchise package are the initial inventory worth of at least Php 500,000 and the franchise fee of Php 300,000.
Other services included in the franchise package are assistance on construction, renovation of site including site evaluation and designing of stores. They also provide all the store equipments such as freezers, air-condition unit, food warmer, siomai and siopao steamer, refrigerators and other food equipments needed in the store operation. Display gondolas, store signage and modern POS machine with barcode scanner are also included. Moreover, owning a Munsterific Convenience Store franchise is a terrific way of investment because it gives sure income to you and the company will not leave you all alone in the business by providing a continuous consultation, monitoring and support to your store outlet.
Nevertheless, they provide intensive training for business management and operations. And they are guiding you along the pre-opening, during the start-up and all throughout the business operations. And what more, is that upon successfully obtaining a Munsterific franchise you will gain the right to utilize the company's brand name, trademark and logo as well as a manual to guide you all along the store business operation. Choosing this store franchise is indeed a Munsterific choice.
Contact Details
If you are interested in getting a Munsterific Franchise, you may contact them through any of the following details:
Websites: www.munsterific.com, www.ufranchiseasia.com/#!munsterific-franchise-business/c241d

Email: franchise@munsterific.com, info@munsterific.com
Phone No.: (034)432-2771, (034)707-8310
Mobile No.: 0923-717-8933
Address: Munsterific Convenience Store, Door 4 St. Anne's Bldg., cor 13th St., Lacson, Bacolod City, Philippines
Jack is a self-made entrepreneur, who actually started out in the Military, then worked for the Government for a few years, until he finally made that bold step and started out his own online and offline businesses. He's never looked back ever since, and hasn't been happier…