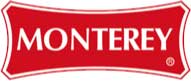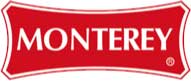 Meat products have become substantial to every Filipinos diet and lifestyle. It is always a part of every savory meal during special occasions and even ordinary days. For this reason, it is indeed profitable to invest in this kind of business endeavor. The best way is to invest in franchising to ensure that you have a good start in your business and the best company that offers this high standard quality meat is Monterey Foods Corporation which is now a subsidiary of San Miguel Corporation. By applying in their Monterey franchise package you are assured of a business that is proven and trusted by many consumers.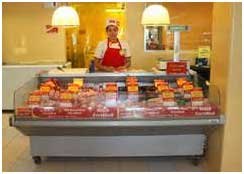 Monterey Meatshop boasts of modern machinery and techniques of producing guaranteed fresh and disease-free meat products, leaner and high quality meats and improved tenderness of meat. If you choose to invest in this meatshop franchising business you are assured of the formula that is exclusive only from Monterey that would bring a surefire profit and income for you. It is formula that includes abundance of value-added and premium quality meat products, proven and tested successful business plan plus company's full support in advertising and marketing of the business. No doubt about it, why this franchising business have enormously grown through the years.
Monterey Franchise: How much is it?
To apply for a Monterey franchise, you must comply with the investment requirements. The initial investment is approximately estimated at around Php 3.1 million that includes construction which amounts up to Php 640,000; supplies and equipments that will cost up to Php 1.5 million; Rent including deposit that cost Php 90,000 and merchandising fee of Php 20,000. The franchise fee is only Php 224,000 and Php 100,000 for the Chicken Station franchise that is not included in the franchise fee of Php 224,000. There is also a required royalty and advertising fee. For advertising fee it's 1% from monthly sales and 2% from sales for the royalty fee.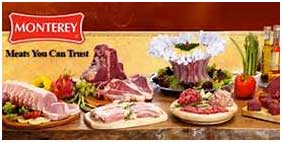 Other things that you can get and are included in the franchise package are a variety of meat products like Monterey fresh beef and pork products, ready-to-cook meats, Purefoods selected canned goods and cold cuts, Magnolia milk, butter, chicken and cooking oil as well as other San Miguel selected products. Nonetheless, Monterey franchise provides support services such as designing the store, Monterey signage, training of shop personnel and also operations and marketing support. Area requirement is approximately 80 sq. meters with at least 5 meters frontage. A prospective franchisee is required to submit letter of intent and site map of the targeted location.
Contact Details
If you need more information regarding the Monterey Franchise, you may contact them through any of the following below:
Website: www.monterey.com.ph
Email: pperez@smg.sanmiguel.com.ph, anery@smg.sanmiguel.com.ph, mjmacapagal@smg.sanmiguel.com.ph, rmolinyawesr@smg.sanmiguel.com.ph
Phone No.: (02)702-5569, (02)702-5386, (02)702-5831
Fax No.: (02)914-8750, (02)637-3784
Mobile No.: 0917-898-5363
Address: Monterey Foods Corporation, 17F JMT Coeporate Condominium, ADB Avenue, Ortigas Center, Pasig City, Philippines
Jack is a self-made entrepreneur, who actually started out in the Military, then worked for the Government for a few years, until he finally made that bold step and started out his own online and offline businesses. He's never looked back ever since, and hasn't been happier…