Enthusiastic about having a resto-bar but worried because you don't have full knowledge on how to run this kind of business endeavor? Fret no more, because with Padi's Point franchise you are taught on how to run your resto-bar successfully. Nevertheless, you are guided by corporate business expert all throughout your business operation to ensure that you're business is in perfect shape. Padi's Point is known as the only restaurant and bar which offers a variety of concepts. It is a proven and tested business foundation that is already established which will certainly gives you good return of investment and growth of profits in your investment.
Padi's Point Franchise
Franchise fee of Padi's Point is among the affordable rate of franchising business in the country. With only Php 500,000, you can already operate your own resto-bar. But you also have to prepare yourself of a total estimated investment of Php 5 million to Php 10 million. Total investment cost will depend largely on the size of the restaurant and the type of entertainment you will infuse in your branch and the franchise fee is already inclusive in the estimated total investment. There are a lot of services covered by the franchise fee including provision of their business system, assistance during the opening, training and among other support covered by the franchise development services.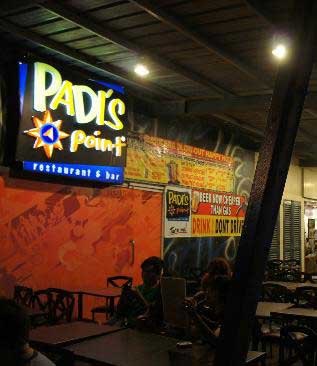 Apart from the franchise fee which is included in the estimated investment figure cost, the construction cost and the working capital cost as well as other expenses is inclusive in this total estimated investment. While operating the business, a continuing support services are offered by the company which requires a royalty fee of 5% from the monthly gross sales. It also entitled the franchisee of continuous use of the brand or trade name, operating system access, business development, assistance in the marketing, consultations and other services a franchisee can get from Padi's Point franchise.
There are actually a lot of benefits you can get from Padi's Point Corporation after acquiring their franchise. As a bonafide franchisee you will undergo training to access in their operating systems. It is a very comprehensive and extensive training to help the franchisee gain full knowledge about the ins and outs of the business. Your business will also receive a continuing guidance and periodic visits by corporate representative to oversee the operation and monitor the business growth and success. Padi's Point franchise term of agreement is 5 years and renewable under some criteria.
Contact Details
Interested in getting a Padi's Point Franchise, call them through any of the following:
Website: www.padispoint.com
Email: vincepadilla@padispoint.com
Phone No.: (02)727-5143, (02)726-6517
Fax No.: (02)726-6447, (02)724-6833
Address: 56 C. Benitez St., Brgy. Bagong Lipunan, Quezon City, Philippines
Jack is a self-made entrepreneur, who actually started out in the Military, then worked for the Government for a few years, until he finally made that bold step and started out his own online and offline businesses. He's never looked back ever since, and hasn't been happier…