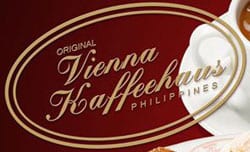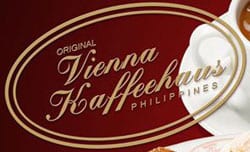 The first shop opened up in Cebu City in early 1970's, it was owned by an Austrian visionary. Throughout the years after its opening, Vienna Kaffeehaus has got a strong following. The unique European ambiance it is well renowned for and the sumptuous dishes that are made from the best and freshest ingredients are what made it popular to the costumers. Vienna Kaffeehaus offers authentic Austrian cuisine, and want to continue moving on to the next level and offer franchise to those qualified entrepreneurs that are hard working and have the drive to succeed in the food business industry.
Vienna Kaffeehaus Menu:
Ox Tongue
Vienna Toast
Chicken Cordon Bleu
Fruchtpalatschinken
Gulaschuppe
Potato Salad
Smoked Ham Sandwich
Fettucine Marinara
Lapu Lapu Danube
Tanigue Steak
Blueberry Cheesecake
The 3 Different Vienna Kaffeehaus Franchise Systems:
Area Franchise – able to open a restaurant with a commissary that delivers to the other Vienna Kaffeehaus franhchisees.
Unit Franchise – single Vienna Kaffeehaus outlet, this is preferred to be set up in a busy area.
 Coffee kiosk – this unit is the one ideal for busy mall isles, food courts and office buildings.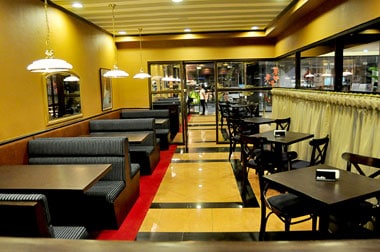 Franchise Information:
Area Franchise
Franchise Fee – Php 750,000
Franchise Term – 12 years
Capital requirement – Php 5,000,000 – Php 6,000,000
Royalty Fee – 5% of the gross sales
Minimum Required Space – 120 square meters including the kitchen and commissary
Unit Franchise
Franchise Fee – Php 450,000
Franchise Term – 10 years
Capital Requirement – Php 4,200,000
Royalty fee – 5 % of gross sales or minimum of Php 15,000 monthly
Minimum Required Space – 90 square meters including kitchen
Coffee Kiosk
Franchise Fee – Php 250,000
Franchise Term – 5 years
Capital Requirement – Php 1,500,000
Royalty Fee – 5 % of gross sales or minimum of Php 6,000 monthly
Minimum Required Space – 16 square meters
Inclusions:
Use of the Trade name and proprietary marks
Evaluation and site approval
Franchisee, Supervisor, Kitchen and Service Crew Training Program
Procurement Program
Marketing assistance
Opening assistance
Manual of daily operations
Development and Research
How to own a Vienna Kaffeehaus Franchise:
Filling up of the confidential questionnaire from this link: http://www.rkfranchise.com/wefranchise/vienna/And send it together with the letter of intent to this address:
Melissa Marie O. Basubas
Vienna Kaffeehaus
Greenhills Road, Kasuntingan
Mandaue City, Cebu
The application for franchise will be evaluated by the Vienna Kaffeehaus Management.
The applicant will be invited over for further discussion of the franchise details.
The proposed location will be inspected and evaluated.
Signing of the franchise agreement will follow upon approval of the proposed location.
The outlet will be set up.
The Service and Kitchen Crew together with the Supervisor and Franchisee will undergo the training at this point.
Opening assistance will be received.
Grand opening of the Vienna Kaffeehaus franchised outlet!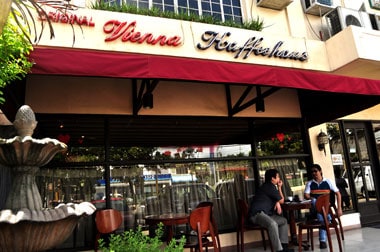 Vienna Kaffeehaus Franchise will be awarded to entrepreneurs who have a proven track record in the food business industry, with people skills and have experience in management. Self motivated tand driven to succeed, must be outgoing and love being around people, must be willing and able to accept the disadvantages and advantages of franchising. Training cost is included in the franchise fee, but the other expenses such as board, lodging and transportation must be shouldered by the franchisee. The confidential Manual of Operations that has the details of the company's system in every aspect of the business will be provided to the franchisee.
Contact Details
If you need more information regarding the Vienna Kaffeehaus Franchise, contact them through any of their contact details below:
Website: www.viennakaffeehaus.com, www.rkfranchise.com/wefranchise/vienna
Facebook Page: www.facebook.com/viennakaffeehaus
Email: info@viennakaffeehaus.com
Phone No.: (032)347-5146 
Contact them also through RK Franchising Consultancy: 
Manila Branch:
Email: rk@rkfranchise.com, rkfranchiseconsultancy@yahoo.com 
Phone nos.: (02)912-2946, (02)912-2973, (02)955-0734
Fax no.: (02)911-1966, (02)912-2973
Cebu Branch:
Email: rkcebu@gmail.com
Phone nos.: (032)253-5010, (032)254-0473
Address: RK Franchise Consultancy Inc., G/F Minnesota Mansion, 267 Ermin Garcia St., Cubao, Quezon City, Philippines
Jack is a self-made entrepreneur, who actually started out in the Military, then worked for the Government for a few years, until he finally made that bold step and started out his own online and offline businesses. He's never looked back ever since, and hasn't been happier…