Informatics is a Singapore-based school erected in 1983 which provides quality information technology education and a deep-rooted learning experience. With its clever procurement, licensing programs and international franchising, Informatics has expanded and is now renowned throughout the world. With more than 30 institutions in the Philippines and in more than 50 countries all over Asia, Latin America, Middle East and other regions, Informatics Franchise is now famous for providing quality services to prospects clients and interested entrepreneurs who are planning to engage in the leaning industry endeavour.
Established in the Philippines on 1994, Informatics Philippines is dedicated to serve the Filipinos by providing quality education and training them to become professionals in the field of Information and Communications technology. With more than 30 establishments running over the country, Informatics also provides deep-rooted educational courses on Business Solutions, Corporate Productivity and Higher education from underclassman to postgraduate degree. Engaging In Informatics franchise will surely make enormous success since information technology courses are in demand nowadays.
Informatics is dedicated in serving our nation's youth and entrepreneurs, thus making it possible for those who want to attend school attain their degree and for businessmen to expand in their fields of business endeavour. It doesn't only make education attainable but it also develops and moulds the future leaders of the country and promotes more job opportunities for information technology experts. For more than twenty years of practice in the field of education, globally renowned support and a testified business ideal, Informatics will provide you assistance to enforce an international educational establishment through their franchising and licensing program.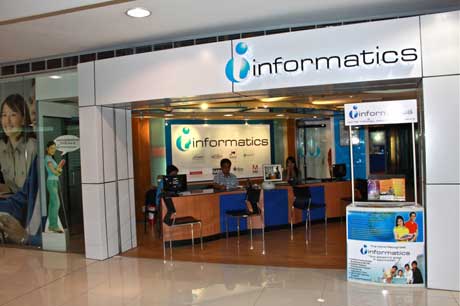 Informatics franchise offers the following merchandise: Thames Business School, PurpleTrain.com, Informatics Institute and Informatics Professional development centre. With its fast growing community, Informatics will be a good investment since it is allied on big companies not only in the country but also throughout the globe. They also provide total support in the business engagement and help you grow and leverage in your investment. Be a part of the team and inquire details from the contacts below.
Contact Details
If you're interested in getting an Informatics Franchise, then contact them through any of the following:
Website: www.informatics.edu.ph, informaticsgroup.com
Facebook Page: www.facebook.com/informaticsph
Email: inquiry@informatics.edu.ph
Phone No.: (02)667-3093 to 94 
Mobile No.: 0917-823-2222
Jack is a self-made entrepreneur, who actually started out in the Military, then worked for the Government for a few years, until he finally made that bold step and started out his own online and offline businesses. He's never looked back ever since, and hasn't been happier…