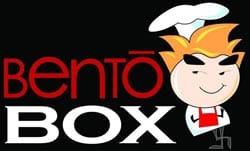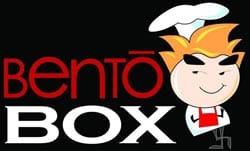 East meets West is the concept of this popular restaurant, it serves a wide selection of authentic Japanese food that are inspired in American cooking and presentation (plating). In Bento Box, you will get a feel of dining in a fine dining restaurant as it does not use disposable spoons, forks and plates. Only fine China wares and stainless steel table wares are provided to complete the great dining experience that Bento Box offers its customers. In terms of food quality Bento Box serves, it raised the bar in offering only the best tasting and freshest food to the diners. That is the reason why loyal patrons are coming back to experience more of this. A cook per order policy is ensured to serve only the freshest food. Bento Box has established an operating procedure when it comes to food portioning and preparation, as well as presentation to be able to maintain the standard and quality of service and food Bento Box offers. It currently has branches in the following areas: Salcedo and Legazpi Villages in Makati City, Greenhills in San Juan, Timog South Triangle and Katipunan Ave. in Quezon City.
Bento Box Menu
Jap- Am Appetizers (Tempura Cheese Sticks, Tempura Onion Strings, Gyoza)
Soup and Salad (Spicy Tuna Sashimi Salad, Mango Kani Salad Sukiyaki)
Sushi (Sashimi Sampler Plate, Maguro, Tamago, Ebi, Kani)
Bento Sushi Roll Special (California Maki Crunch, California Maki Roll)
Bento Box (Tempura All Shrimp Bento, Tuna Teppanyaki Bento, Beef Teppanyaki Bento, Gindara Bento)
Bento Upgrades (Japanese Mixed Vegetables, Japanese Fried Rice, Salmon, Additional Chapchae Noodles)
Bento to Share (Torikatsu, Tonkatsu, Beef/Tuna Teppanyaki)
Obento (Florida's Chicken Crunch, Gindara Steak Ala Pobre, Western Tuna Aioli Ribeye Special)
Noodles (Gyuniku Ramen, Tempura Ramen or Udon, Yakisoba / Yakiudon)
Jap-Am Mongolian Bowls (Vegetable, Chicken, Pork, Seafood)
Donburi (Kakiagedon, Torikatsucurry / Katsucurrydon, Sukiyakidon, Teriyaki Chicken BBQ, Katsudon)
Desserts
Beverages
Frozen delights
Bento Box Franchise Investment Requirement
Php 350,000 up – depending on the actual store size and construction requirement.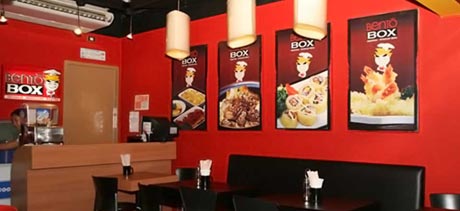 Package Inclusions
Site location assistance
Store construction, design and lay-out
Furniture equipment
Training program for franchisee and required employees
Pre and grand opening assistance
On-going consultancy
Operations manual
Bento Box Franchise fee
For a shell type outlet, minimum space requirement is 35 square metres.
Bento Box Franchise candidate must pass the personal qualification requirement and proposed location must be strategic and located in a high foot and vehicle traffic area such as busy malls, commercial areas, and the like. The candidate must have the drive to be successful in the food industry, must possess a good sense of business background. He/she should be capable and willing to manage the store in its daily operations to realize the full potential of the good business opportunity. And lastly, must be able to should the investment requirements in developing a Bento Box franchised outlet.
How to apply for a Bento Box Franchise?
Express interest by submitting a letter of intent, copy of comprehensive resume and the location map of the proposed location for review and evaluation.
Other Franchise Opportunities Happy Concept Group Offers
Multi-branding – a package that includes World Topps and Bento Box in one location.
Express Stalls/Take Out – this is a perfect investment opportunity for a location with high foot traffic that requires fast service.
Contact Details
Interested in getting a Bento Box Franchise, contact the Happy Concept Group from the following details:
Website: www.happyconceptgroup.com/portable/bentobox.html
Facebook Page: www.facebook.com/happyconceptgroup
Email Address: inquiry@happyconceptgroup.com
Mobile Nos.: 0922-859-2701 (Gemma Tuba), 0922-859-2702 (Pamela Azur)
Address: 2nd floor Barrio Fiesta Building, Restaurant Ave., Marcos Highway, Dela Paz, Pasig City, Philippines
Jack is a self-made entrepreneur, who actually started out in the Military, then worked for the Government for a few years, until he finally made that bold step and started out his own online and offline businesses. He's never looked back ever since, and hasn't been happier…