A Korean global quick service restaurant that literally means "My Hometown" in Korean language, originated in South Korea in 2002. Mr. Jinduk She, the owner and founder of BonChon Restaurant passion and dedication to provide the food loving people the best and distinct sauces, spent his years perfecting the recipes that loyal patrons now love (globally). A few years after it opened its doors in Korea, it has penetrated the USA market and made waves in: Philadelphia, Boston, New York, and San Francisco. Since then, it has expanded all over Asia as well: Jakarta, and Singapore, Manila and Bangkok as well. Nowadays, it has more than 140 network locations in over 10 countries.
In 2010, BonChon restaurant opened in Manila and is considered one of the biggest and fastest growing Chicken chains in the country. The provinces in the Philippines that welcome BonChon wholeheartedly are: Baguio City, Cavite, Pampanga, Bulacan, Batangas, Cebu, General Santos City and Davao.
BonChon Restaurant's Menu
Mouth-watering crispy fried chicken
Fish and Chips
Crispy Squid
Beef and Chicken Bulgogi
Chapchae
Calamari
Fish Taco
Poppers and Fries
Seafood Platter
Bulgogi Noodle Soup
Desserts, and Korean Beverages
BonChon Restaurant Franchise receives a huge volume of inquiries, so the company prefer applicants to go through an online application and evaluation. The forms may be downloaded from this link: http://www.bonchon.com.ph/franchise/
BonChon welcomes franchise applicants who do not have prior restaurant business experience.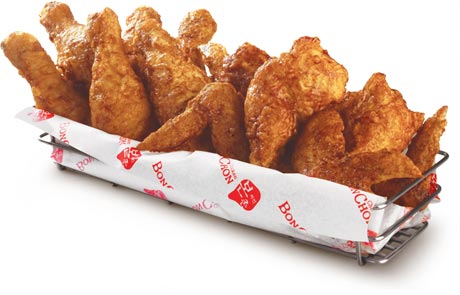 Franchise Information
The franchise fee is (one-time payment) $35,000 (Single Unit)
The on-going royalty fee is approx. 3.5%- 4.75% of the Gross Revenue.
Contract term is 10 years (with 2 options to renew for 5 years each)
Area Development
(Restaurant # 1-3)
Franchise Fee – $ 35,000
Royalty Fee – 3.5%- 4.75% of the Gross Revenue
(Restaurant # 4)
Franchise Fee – $ 30, 000
Royalty Fee – reduced 0%.5% of the above-mentioned rates
Master Franchise Fee
Per Store Franchise Fee – $ 10,000
Royalty Fee – 2%
BonChon Restaurant does not offer financing for the franchisees at the moment.
BonChon Restaurant Franchise Fee Inclusions
Initial and on-site training program
Right to use signage and logos
Site and layout assistance and approval
Interior design package
Daily Operations and Cooking manual
Opening process assistance – a supervisor will be sent by the franchisor to assist the franchisee's training program for 5 days. The supervisor will ensure the smooth operations during the grand opening of the retail outlet.
Training Program – will take place at BonChon Restaurant's  NYC headquarters for 4-6 weeks. The franchisee will work closely with an assigned supervisor and headquarters crew. Training fee will be included in the franchise fee. The franchisee must shoulder lodging, travel, and other personal costs.
Space minimum requirement – 2,000 SF up to 3,000 SF for a full-service dine-in restaurant. A more detailed site criteria checklist will be given before the franchisee begins the site selection.
Acquiring equipment and inventory items – a list of equipment and inventory specifications and items will be provided by the company. However, if the franchisee decides to choose their own vendors, they must ensure that the quality and specifications must be met by the franchisors standard and subjected for approval as well.
BonChon Restaurant headquarters approve only limited additional menu the franchisee chooses to add to the existing original menu selections.
BonChon Restaurant Franchise Process
Submission of the franchise application. (Find the form here: http://www.bonchon.com/sub04/sub0405.php)
First call.
Verification of the franchisees financial asset.
Franchise disclosure review.
Initial meeting.
Franchise signing.
Package start-up.
Site Selection Process
Understanding the site criteria provided by the franchisor.
Location search.
Evaluation and approval of selected site.
Construction and Training Process
Signing of lease.
Interior Designer/Architect hiring.
Review and approval of layout and design.
Construction begins.
Initial inventory.
Training program.
Hiring process.
Post-Opening
Advertising and Marketing Assistance
Quality Assurance
Expansion and Growth Assistance
Contact Details
Interested in getting a BonChon Franchise, you may inquire through the following contact details:
Website: www.bonchon.com.ph
Facebook Page: www.facebook.com/Bonchon.Chicken.Philippines
Twitter: @BonChon_PH
Instagram: instagram.com/bonchon_ph
Jack is a self-made entrepreneur, who actually started out in the Military, then worked for the Government for a few years, until he finally made that bold step and started out his own online and offline businesses. He's never looked back ever since, and hasn't been happier…