In July 15, 2004 Traffic Salon started the business with only 2 staff (stylists). The staffs do not only wash and style your hair; they provide a more personal service as compared to their competitors. Before the customer' hair is even shampooed, the staffs get to know them a little and discuss about what style will suit them best. Indeed, you get a personal beauty and fashion consultant in traffic Salon. This strategy is what makes Traffic Salon the place to be for customers who need more personalized service and hair care. Traffic Salon always strives to provide the up-to-date style in nail services, haircut and color to make the loyal customers happy and satisfied.
In Traffic Salon, they are committed to making their most beloved customers look good in the most innovative way and feel good about themselves at the same time. The staffs are highly trained and experienced both here in the Philippines and abroad to ensure that they only provide the best quality service.
Traffic Salon Services
Hair Cut (Artistic, Creative and Technical Director)
Styling (Blow Dry and Up Scale)
Colouring (Wash Out, Retouch, Full, Toner, Cellophane, Eye Brows)
Perming and Straightening (Digital, Ordinary, Relaxing, Rebonding)
Hair Treatments (Micro Mist, Hair Surgery, Primer Treatment)
Make Up
Nail (Manicure, Pedicure, Cleaning, Change Polish)
Threading
Foot Spa, Foot Scrub, Foot Massage and Back Massage
Traffic Salon Franchise is available for interested franchisees that are willing to join Traffic Salon in continuing its legacy in providing the best quality hair and body treatment to its loyal patrons.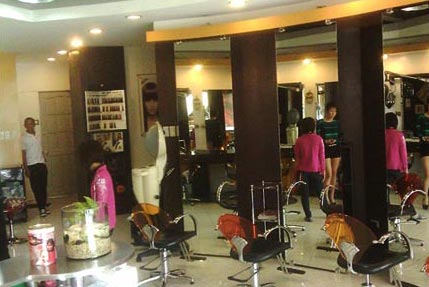 Application Steps
Send your comprehensive bio data and letter of intent to the address at the bottom of this page.
The application will be reviewed by the franchisor.
The applicant will be invited over for the discussion of the franchise details further.
Evaluation and approval of the proposed location.
Execution of the franchise agreement.
Outlet set-up and start of the training program.
Pre-opening and marketing assistance provided.
Grand opening of Traffic Salon Franchise!
Information
Franchise Fee-  Php 500,000
Inclusions
Proprietary Marks and Trade Name Use
Site Evaluation and Approval
Training Program for Hair Stylists and Franchisee
Procurement Program
Marketing Assistance
Pre-and Grand Opening Assistance
Daily Operations Manual
Research and Development Assistance
Initial Traffic Salon Franchise Term – 5 years
Capital Requirement –  Php 1,800,000 Approx.
Royalty Fee – Php 20,000 per month
Minimum Space Requirement – 80 square meters (must be located in high traffic residential and commercial area)
Building construction, design and lay-out of the outlet will be done by one of the company's accredited contractors to ensure the standard is met and the company's tried and tested specification is applied. When it comes to the equipment and supplies procurement, the franchisor requires the franchisee to purchase directly from the company or accredited suppliers. In terms of hiring, the franchisee is the one responsible for it. The franchisor will provide hiring criteria and will assist in the screening of applicants. After site approval, payment of all the required fees, the franchise outlet will be ready for operation in about 60 days.
Contact Details
If you are interested with the Traffic Salon Franchise, contact them through their contact details below:
Website: www.rkfranchise.com/wefranchise/trafficsalon
Email: celestina_lchan@yahoo.com
Tel. No. : (02)705-1472
Telefax No.:  (02)721-8197
Address: Unit 4 199 Wilson St., Addition Hills, San Juan, Metro Manila, Philippines
Contact them also through RK Franchising Consultancy: 
Manila Branch:
Email: rk@rkfranchise.com, rkfranchiseconsultancy@yahoo.com 
Phone nos.: (02)912-2946, (02)912-2973, (02)955-0734
Fax no.: (02)911-1966, (02)912-2973
Cebu Branch:
Email: rkcebu@gmail.com
Phone nos.: (032)253-5010, (032)254-0473
Address: RK Franchise Consultancy Inc., G/F Minnesota Mansion, 267 Ermin Garcia St., Cubao, Quezon City, Philippines
Jack is a self-made entrepreneur, who actually started out in the Military, then worked for the Government for a few years, until he finally made that bold step and started out his own online and offline businesses. He's never looked back ever since, and hasn't been happier…