Committed to pamper every loyal patrons "xpertly" from the inside and out, it is the mission of The NailXperts Spa; that it continuously provides everyone who visits. Luxury is experienced for the spa has highly trained staffs that make sure everyone gets treated like they deserve to be. But it doesn't necessarily mean they have to pay a hefty price for the great service they experience. At The NailXperts Spa, every treatment is customised to each individual's unique and special bodily needs. Indeed the spa ensures that every loyal patrons will leave satisfied and happy as they are rejuvenated, energy restored, relaxed, feeling radiant and recharged mentally and physically.
The NailXperts Spa has garnered multiple awards since it opened its doors: (2009) Best Nail Care and Spa Services, (2010) Best Nail Spa Services – 2nd Consecutive year of Quality Excellence and Best Nail and Body Spa Service Franchise in 2010.
The NailXperts Spa Branches
Antipolo City Proper
Vista Verde and Brookside Cainta
Marcos Highway Antipolo
Tarlac City
The NailXperts Spa Services
Xpress Nails (manicure, pedicure, pampered and luxurious)
Classis Organic Foot Spa (Benguet fruit + mint, w/ ECO treatment, milk and vanilla hand paraffin)
Xpert Add On (Nail arts, nail stamping)
Body Care (Signature aroma body massage, Traditional Thai massage)
Depileve Warm wax or All natural cold wax (Arm, legs, Brazil, Whole Body)
The NailXperts Spa also offers Spa packages for individual customers or even party packages for kids or family and friends.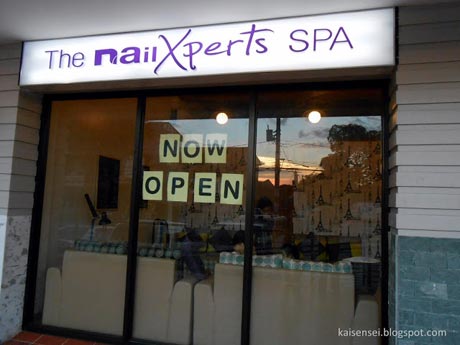 The franchisor has set criteria as to the qualifications of franchisees the company wants to be partners with:
Must appreciate the benefits of working on a team (and within proven and tested system of operation).
Must possess and display good interpersonal and communication skills as well.
Must be actively involved in the community where in the proposed spa will be set-up.
Must be hands-on in the business to realize the full earning potential.
Should be capable to invest in the Spa, as well as the financial ability to survive the first year of the business while still drawing a nominal salary. Further to this, The NailXperts Spa does not provide financial assistance to the franchisee.
Initial investment of The NailXperts Spa Franchise:
Php 130,000.00 for Mobile Spa Franchise Package
Php 250,000.00 for Lounge type (without construction)
Php 450,000.00 for Lounge type (with construction for a 32-40 square meters commercial area)
Php 800,000.00 for Lounge type (with construction for a 40-80 square meters commercial area)
The above amount includes:
Franchise fee
Initial inventory
Grand opening assistance
Legal Assistance
Training program
Legal permits
Other start up items
Click this link to download The NailXperts Spa Franchise application form: http://www.thenailxperts.com/franchise
Go to this link to avail and fill up the franchise inquiry form: http://www.thenailxperts.com/contact-us/enquiry-form 
Contact Details
If you need more information about the Nailxperts Spa Franchise, you may contact them through the following below:
Website: www.thenailxperts.com 
Contact them also through RK Franchising Consultancy: 
Manila Branch:
Email: rk@rkfranchise.com, rkfranchiseconsultancy@yahoo.com 
Phone nos.: (02)912-2946, (02)912-2973, (02)955-0734
Fax no.: (02)911-1966, (02)912-2973
Cebu Branch:
Email: rkcebu@gmail.com
Phone nos.: (032)253-5010, (032)254-0473
Address: RK Franchise Consultancy Inc., G/F Minnesota Mansion, 267 Ermin Garcia St., Cubao, Quezon City, Philippines
Jack is a self-made entrepreneur, who actually started out in the Military, then worked for the Government for a few years, until he finally made that bold step and started out his own online and offline businesses. He's never looked back ever since, and hasn't been happier…