It was first established in 2002 by owner-founder Mr. Francisco Reyes (a De La Salle University alumnus). Just like any other business that were just starting, Reyes Barbeque has experienced ups and downs but to cut the long story short, it has surpassed it all and currently has more than 40 branches in the Philippines. Reyes Barbeque provides a fast casual dining experience. Its casual but cozy ambience, mouth-watering dishes that are reasonably priced are one of the reasons why people love going back to Reyes Barbeque, truly a gastronomic experience! One of the biggest and most popular dishes is the Boneless Chicken Barbeque served with Java rice and peanut sauce with achara or eggplant salad. Nowadays, it offers sauces in jars as well for customers to enjoy them at home.
As far as expansion is concerned, Reyes Barbeque is planning to establish branches way down South of the Philippines as well as Southeast Asian Region such as: Indonesia, Malaysia and Guam Island. Reyes Barbeque always strives to maintain the good quality of the products they offer to the consumers, and that is one of the reasons why it is one of the fastest growing and popular franchise opportunities in the country nowadays. It has branches at: Binondo Manila, Muntinlupa, Quezon City, Boracay Island, Negros Occidental, Makati City, Ortigas Centre, Glorietta 4, Ayala Centre, Greenhills, Taguig City, Sta. Rosa Laguna, Mandaluyong, Pampanga, SM Mall of Asia, Marilao Bulacan, Tarlac City, and Cainta Rizal among other branches.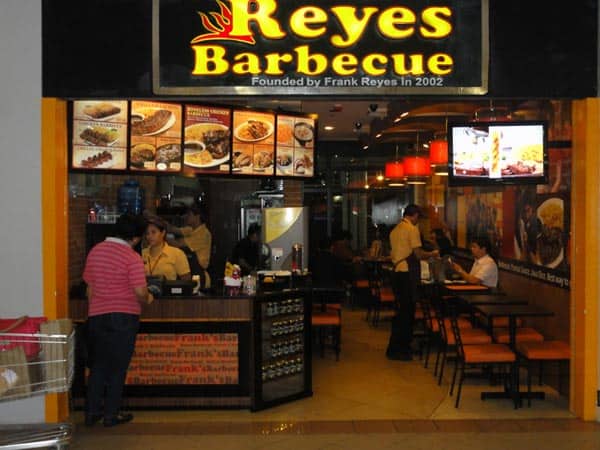 Reyes Barbecue Menu
Appetizers – Grilled Asparagus Pork Wrap, Grilled Chicken Gizzard, Grilled Chicken Liver Pork Wrap,
Pork Barbeque and Sisig
Mains – Beef Salpicao Barbeque, Boneless Chicken, Grilled Bangus, Grilled Hamburger, Grilled Fish, Grilled Liempo, Grilled Squid, Grilled Salmon/Tuna Belly.
Snacks – Goto, Arroz Caldo, Cheese Pie, Banana Caramel Ala Mode, Choco Meringue
Soups and Sides – Molo Soup, Sotanghon Soup, Munggo, Sitaw at Kalabasa
Noodles – Palabok, Garlic Sotanghon, Pancit Canton
Value Meals, Drinks and Desserts
Reyes Barbecue Franchise Information
Franchise Fee – P300,000.00 payable upon signing of franchise agreement (one-time payment). This is one of the most competitive franchise fees in the country.
Royalty Fee – 5 % of Gross Sales
Advantages of the franchise
A business model with successful track record
Use of Brand Trademark and Goodwill
Commissary System (Standardized Products)
Unified Visual Merchandising Design and Look
On The Job Training Program
Operations System (Manual)
Management and Operations Team to Support Franchisees
The total Reyes Barbecue Franchise investment cost is about Php 1,500,000 to Php 2,500,000 (inclusive of the Php 300,000 franchise fee) but it still depends on the chosen site, area and the extent of work to be done on the store location. For Free standing/dine-in outlets require a minimum of 30 to 100 square meters. For a successful franchise and fast Return-On-Investment, diligent day-to-day supervision is important role of the franchisees. The core target market is AB and Upper C. But, it's been observed that the CD market is also patronizing Reyes Barbeque stores due to the nature of the product which is "mainstream comfort food". For 2 eight hour shifts, the personnel required is: 1 manager/supervisor, and a minimum of 7 crew/staff. However, additional crew will depend on the expected volume of sales. Return-On-Investment is 1-2 years, depending on several factors.
The franchise candidates are the ones responsible for searching for their own location. But the franchisor, may give the franchisee-prospect a letter of authorization to apply for the said space using the brand name Reyes Barbecue (provided the candidate is qualified). Preferably, the location must have a potentially high traffic, or it may not be approved at all.
Contact Details
Contact the company for further discussion of the Reyes Barbecue Franchise at the following details
Website: reyesbarbecue.net
Facebook Page: www.facebook.com/ReyesBarbecue
Twitter Page: twitter.com/reyesbbq
Email: frankreyesbarbecue@gmail.com
Phone Nos.: (02)726-9725, (02)724-7626
Mobile No.: 0906-578-1264
Address:  819 B – Torres St., Mandaluyong City, Philippines
Jack is a self-made entrepreneur, who actually started out in the Military, then worked for the Government for a few years, until he finally made that bold step and started out his own online and offline businesses. He's never looked back ever since, and hasn't been happier…