One of the most lucrative business opportunities nowadays are pharmacies. As medicine is one of the people's basic needs just like food and shelter. Good health and wellness is one of the most important factors in order to survive in this world. The founders (a Licensed Pharmacist and a Marketing Professional) of Southeast Drug have this factors in mind when they opened the pharmacy in Santiago, Isabela ( a province up North)  7 years ago. A small drugstore was started with their limited capital on hand. Basic and fast moving generic and even branded medicines were the first one they offered as a starter. Strong willpower and drive to succeed in the business they chose, providing employment to people who deserves the job, and contribution to the country's economy growth are some of the points the company has proven. And the most important of all, serving the highest quality of medicine at very affordable prices to the people.
6 months after the first pharmacy has opened, an outlet in Muntinlupa City has been born under the name of "Botica ni Nanay Juling" (Juling being one of the founders mother's name) Through the years, the pharmacy continues to strive in succeeding and fulfilling its commitment to people of providing good quality medicines. Southeast Drug widened its market to share its experiences, and knowledge in the business through the help of franchising. Southeast Drug is a member of Filipino International Franchise Association. 
Southeast Drug Franchise Information
Fee – Php 99,000
Surcharges – Php 20,000 (for branded medicines)
Inclusions
Trademarks use
Location approval
Training Program for franchisee, sales staff and Pharmacist
Opening assistance
Procurement program
Research and Development program
Southeast Drug Franchise Term is 5 years initially.
Total Capital Requirement is Php 700,000 to Php 1,100,000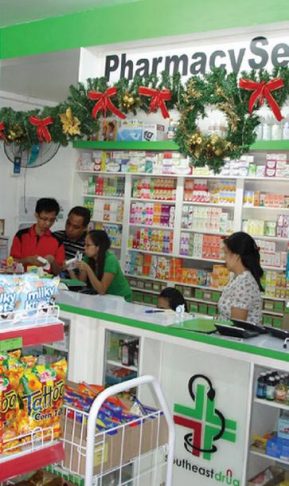 Types of Franchise
Generics
Generics + Branded Medicines
Generics + Branded Medicines + Grocery
Continuation Fees
Php 2,000 for all in one pharmacy
Php 1,500 monthly for branded medicines
Minimum Space Requirement
15 square meters for generics only
20 square meters for generics + branded medicines
25 square meters for generics + branded medicines + grocery
Steps in owning a Southeast Drug Franchise
Review their franchise marketing kit. Fill up and submit the form found in this link, to request for a marketing kit: http://www.rkfranchise.com/wefranchise/southeastdrug/franchise.php
Submit a letter of intent and fill up the questionnaire to be found in the marketing kit. Drop them at the address provided at the bottom.
The franchise application will be reviewed and evaluated by the Southeast Drug management.
An initial meeting will be scheduled, for the presentation of franchise agreement details as well as franchise disclosure information.
The proposed site will be evaluated and approved if passed the franchisor's criteria.
Awarding of the franchise and execution of the franchise agreement.
Setting up of the outlet.
Training program for the franchisee and required manpower will commence.
A representative will assist in the opening of the franchised outlet.
Launching of the franchised outlet.
Contact Details
For more information regarding the Southeast Drug Franchise, you may contact them through their contact details below:
Website: www.rkfranchise.com/wefranchise/southeastdrug/index.php
Email: southeastdrugfranchise@gmail.com
Tel. Nos.: (02)579-9113
Mobile Nos.:  0925 SE DRUGS (7337847)
Address: Southeast Drug, 2nd Floor Bay 6, AFPMBAI Commercial Arcade, Soldiers Hills Village, Roman Cruz Ave., Brgy. Putatan, Muntinlupa City, Philippines
Contact them also through RK Franchising Consultancy: 
Manila Branch:
Email: rk@rkfranchise.com, rkfranchiseconsultancy@yahoo.com 
Phone nos.: (02)912-2946, (02)912-2973, (02)955-0734
Fax no.: (02)911-1966, (02)912-2973
Cebu Branch:
Email: rkcebu@gmail.com
Phone nos.: (032)253-5010, (032)254-0473
Address: RK Franchise Consultancy Inc., G/F Minnesota Mansion, 267 Ermin Garcia St., Cubao, Quezon City, Philippines
Jack is a self-made entrepreneur, who actually started out in the Military, then worked for the Government for a few years, until he finally made that bold step and started out his own online and offline businesses. He's never looked back ever since, and hasn't been happier…