President and School Founder Jacqueline Marzan-Tolentino, wants to mould children to become the next generation leaders in a school that has no borders, wherein children/students can celebrate their uniqueness and differences. Her mission is to nurture the best and brightest children in the country and globally as well, using the 21st century teaching approach that she has learned from studying in the UK, US and Asia. Exceptional and top quality education to children is what Eton International School is and has been providing. Being the first international school in the country in 2007, and has always been the forefront of innovation when it comes to education. It does not want to bore children in its way of teaching, that way it will be more fun for them. Starting 2008, Eton International School has topped the International Benchmark Test (IBT) given by the Centre of Education Management Inc. (CEM) in Math, Science and English. The first 3D school in the Philippines has been opened here in year 2012. Children can learn Science and Math this way, which aids in enhancing your children's learning retention compared to the traditional way of teaching. A safe and conductive learning environment is provided at Eton International School that makes learning enjoyable and challenging as well for the students. At Eton, they always encourage the students to care for others, and to actively participate in global events and issues. School vans are provided and a security guard with a nanny to ensure children's safety to and from the school premises.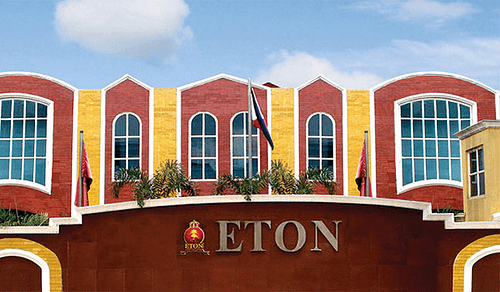 E- Learning
Wiki – Teachers get their students to create their own Wikis and utilize internet and multimedia resources to enhance each student's learning experiences.
Live class – Teachers are broadcasting lessons online for the students to access anytime, documents are shared online as well to share to students to get students learn in real time.
Lesson – educators create and deliver online lessons using webpages, live audios or even videos for students.
Message – an email system that allows teachers and students to exchange emails in "AsknLearn"
The focus of Eton International School is multiple intelligence:
Visual
Logical
Verbal
Musical
Kinesthetic
Interpersonal
Intrapersonal
Natural
Benefits of Eton International School:
There are an average number of only 12 per class so every student is ensured to receive personal attention and close teacher-student contact, outstanding pastoral support and care.
Eton students are known to excel in academic and also non-academic subjects
It is integrating technology in all aspects of teaching, school-parent communication, reporting and grading process
The students are confident, responsible, outgoing and sociable. They are used to interacting with students from different nationalities
Every student learn Mandarin Chinese aside from the English language, they are well conversant in multi languages 
Eton International School Franchise Includes:
Use of Eton trademark and brand name
Assistance on site selection and approval
Training program in Eton management and required staff
World class curriculum
Use of Eton marketing
Opening assistance
Operations manual
Research and development
Initial Term – 5 years renewable
Royalty fee – 7% of monthly gross sales
Marketing fee – 3% of gross sales
Required space:  minimum of 500 square metres
Total initial investment – Php 7, 000, 000 estimated
Return On Investment – 2 years 
 Contact Details
Contact the following details if interested in owning an Eton International School Franchise:
Website: www.eton.edu.ph
Facebook Page: www.facebook.com/etoninternationalschool
Twitter: twitter.com/etonmanila
Instagram: instagram.com/etoninternationalschool
Phone No.: (02)526-2994 to 95
Mobile No.: 0906-912-1546
Address: Jacqueline Tolentino, M.E., PhD. Eton Manila 1839 Dr. Vasquez St., Malate, Manila, Philippines
Jack is a self-made entrepreneur, who actually started out in the Military, then worked for the Government for a few years, until he finally made that bold step and started out his own online and offline businesses. He's never looked back ever since, and hasn't been happier…