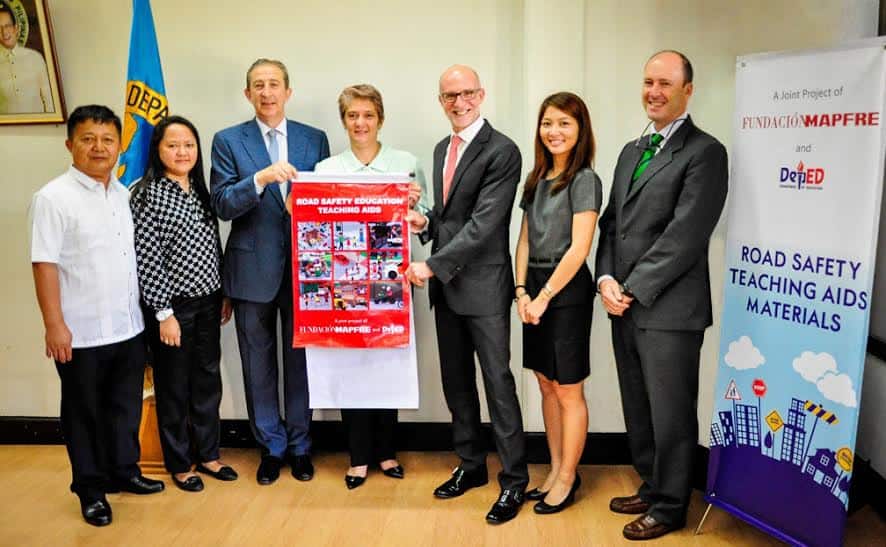 Pinoy Street Smarts
In just a few more weeks, school gates will open and it's time again to load backpacks with books for school. While some may be upset that summer time is coming to an end, don't worry because there is definitely something to look forward to once school starts.
Schoolteachers will not only teach students lessons on English, History, or Math. They will also teach more practical lessons like how to cross the road or what certain road signs mean. Basically the goal is to train students be street smart. This is important because Road Safety education shapes children and young people's attitudes and behaviors. In this way, the youth today can become responsible drivers, passengers, pedestrians, and cyclists in their later years.
Spanish Ambassador to the Philippines, H.E. Luis Antonio Calvo, with DepEd Undersecretary of Programs and Projects Dina Ocampo, and Mapfre Insular president and CEO, Javier Warleta, initiated the turnover of Road Safety Teaching Aids for public elementary schools in the country, between Fundacion Mapfre and the Department of Education (DepEd).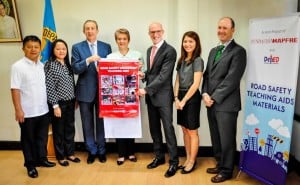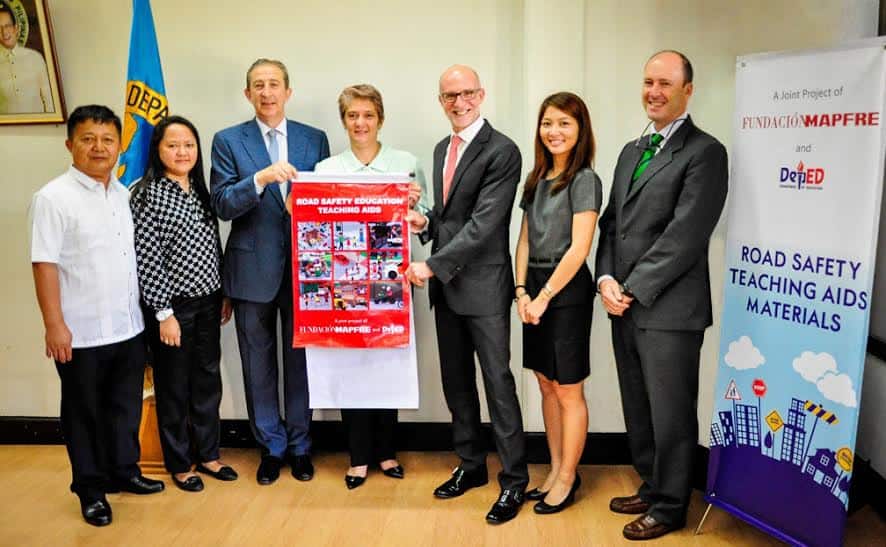 The teaching aids were distributed to improve the teaching-learning process in schools so that students will be aware of how to travel safely in roads, particularly the busy streets of the metro. Teachers were also given easy access to the soft copies of the program's materials through the DepEd Portal.
The program's goal is to reach out to 47,000 schools nationwide—both in the elementary and secondary levels. Aside from raising awareness among the youth, DepEd, Mapfre, and the Spanish Embassy would like to extend road safety consciousness to adults as well. After all, the youth learns best when they have a good example to follow.
The Spanish Ministry of Education and Embassy works closely with DepEd and its special programs, and strongly supports this Road Safety Awareness program. The collaborators would like to emphasize safety as a way of life, in such a way that traffic and car safety principles are also as important as learning other subjects in school like English, History, or Math.
Fundacion Mapfre, the corporate social responsibility arm of MAPFRE S.A., a leading Spanish insurance multinational company, operating in the Philippines through Mapfre Insular, has been working with the Department of Education since 2011, developing modules in two learning areas: Araling Panlipunan and Edukasyon sa Pagpapakatao. Since then, road safety has been initially taught in at least two thousand schools nationwide.
Through this program, we hope to mold a generation of Pinoy street smarts. 
– END – 
MAPFRE Insular is a non-life insurance company offering general insurance for optimum financial protection and risk management. It provides insurance services on fire and allied lines, motor vehicle, personal accident, casualty, liability, engineering, marine cargo, surety, and micro insurance. Founded in 1934, MAPFRE Insular today ranks among the top five in the non-life insurance industry in terms of earned premiums, investment income, and net income. MAPFRE Insular is a part of the MAPFRE Sociedad Anonima, the largest insurance conglomerate in Spain. It is also the leading non-life insurance company in Latin America and the 6th largest non-life insurer in Europe. MAPFRE S.A. operates mainly in Spain and in over 47 countries worldwide. It has more than 23 million customers, insured vehicles, and millions of insured homes.
FUNDACIÓN MAPFRE is an institution sponsored by the Spanish insurance group MAPFRE. The foundation's aim is to contribute to achieving objectives of general interest to society. It was established on 5 November 1975 and was officially recognised as a Private Cultural Foundation by Order of the Ministry of Education and Science on 4 May 1976
www.mapfre.com.ph
https://www.facebook.com/MAPFREInsularInsurance
Jack is a self-made entrepreneur, who actually started out in the Military, then worked for the Government for a few years, until he finally made that bold step and started out his own online and offline businesses. He's never looked back ever since, and hasn't been happier…