Mabuhay Ang Bagong Gupit!
With The Godfather as its cinematic influence, The Good Barber Shop lives up to its name. They certainly have offers that you can't refuse and quality at a comfortable price. The Good Barber first opened year 2012 with the essential goal to bring back the warm and traditional barber shop experience with wit and humor. This company aims to provide a place for their customers to relax and enjoy the traditional quality offers without the high cost. With its traditional barbershop ambience, the shop has an American and vintage theme with wood finished interiors, 30's to 80's music, friendly staff and an updated mini-library with a wide range of genre and titles for the customers to enjoy. All of these elements will surely create a memorable experience for the customers. They also provide a one-of-a-kind 'mix-and-match your services' to avail 10% discount for every 2 services or more. What's more interesting is that it's not only for men to enjoy but for women and children as well.
The different services offered for grooming and relaxation are:
• Haircut
• Shave Face
• Shave Head
• Massage
• Scalp or Facial Treatment
• Hair Dye
• Manicure or Pedicure
• Foot Spa w/ Free Pedicure
The Good Barber Shop also supports the Philippine Local Economy by patronizing locally-produced products and by creating jobs and providing 'equal-opportunity-business-partnership' vendor-vendee relationship. If you're looking for an investment opportunity like this, The Good Barber Shop Franchise is now available! It would be nice to strike whilst the iron is hot. Everyone needs a haircut, more so a good one, so franchising a barbershop won't let anyone down.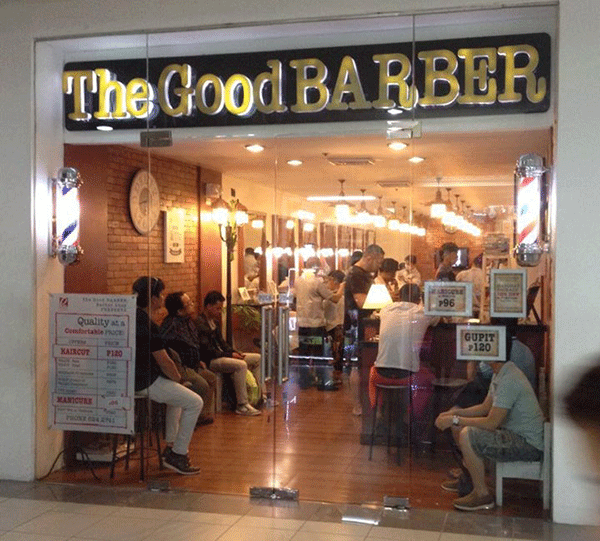 The Good Barber Shop Franchise details:
Capital: P2.5M – 2.9M (in-line store)
Franchise Fee: Php 500,000
No. of Outlets: 1 store
Required Space: 60 – 70 sqm
Franchise Program: Francorp Philippines
Contact Details
For those who want to know more about The Good Barbershop Franchise, you may contact them directly at:
Website: www.ufranchiseasia.com/#!the-good-barber-franchise/c1pw8
Facebook Page: www.facebook.com/thegoodbarbershop
Email: thegoodbarber@gmail.com
Phone No.: (02)624-2741
I am a content writer who is goal-oriented and passionate in what I do. I use my hard outer shell to guard me against deception and betrayal. The moment I start, I rarely look back. I strive hard to live up to the high expectations that others expect from me.