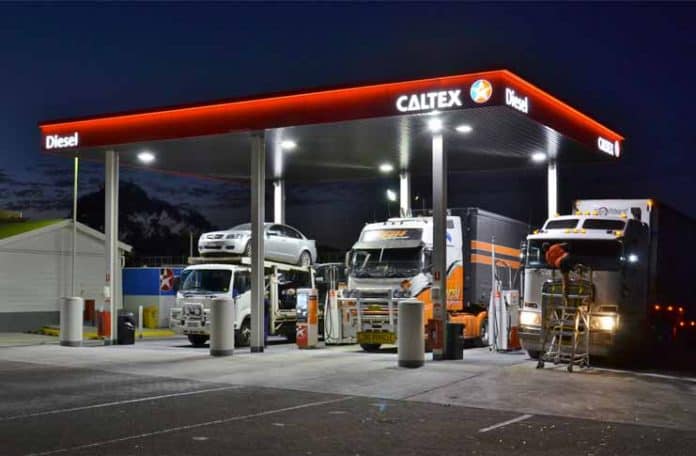 Interested in buying a Gasoline Station Franchise? A Caltex Franchise? Well, you're on the right page. Let's start…
Got your own car? Then you're addicted. Addicted to fuel. We all are. Even if you don't own a car…
Filipinos, a bit like Americans, love cars (specially big ones), and are quite addicted to fuel. Regardless of the car size, this country (and probably any other country in the world) runs and operates mainly on vehicles of all types and sizes (cars, buses, trucks, motorbikes, etc.), and on FUEL. Until we reach that day where there's a really awesome electric solution out there (and there's not yet!) – then fuel will always be in demand. This makes it a good business opportunity, and the Caltex Franchise is a great option to evaluate deeply.
Caltex was established back in 1936, and today it's among the world's largest Gas Station brands. It's part of the Chevron Corporation, also a very well-known brand by itself, and one of the world's biggest oil and petroleum companies. It's a giant (in terms of business). So if you ever decide to invest in a Caltex Franchise, these two powerful companies and brand-power, are already a great boost for starting a business in the gas station franchise sector.
Caltex Philippines Inc. was also formed more than 80 years ago (in 1936), while in 1954 they built the first Caltex oil refinery in the country.
Check out this video showing the history of CALTEX:

Why invest in a Caltex Franchise?
Well, with its impressive history and continuous growth worldwide, Caltex are probably a strong bet with lower risks when it comes to a gas station franchise. We can't say there aren't any risks in this sector, because no business is a risk-free.
However, Caltex are very much committed to being an outstanding business partner, and according to our research – they provide professional support to its franchisees, assisting them in being profitable and successful.
Being part of the Caltex Franchise club means you will get the following business tools to help you in the daily management of your business:
The Caltex Retailer's Manual: You will get a step-by-step operating manual with detailed guidelines on the daily management of your Caltex Franchise station.
Caltex Stock Management Process: You will get the Caltex fuel inventory management process, which assures fuel integrity and quantity reconciliation.
Customer Service Tracking System: You will get Caltex's mystery shopper program, which addresses a series of quality-of-experience standards, and provides valuable data that helps motivate staff and ensure customer satisfaction.
Customer Service Center: You will have the service of Caltex's customer service center, which handles all orders and inquiries for retailers and customers. This center also has a voice response unit (VRU) that is available for standard orders 24/7.
Financial Support: Caltex promises to work with you on a personal basis, and in case required – to develop a financial support program that best suits your needs.
Being a Caltex Franchise owner can be a lucrative business, but be mindful that it's not suited for everyone.  Caltex is looking for Franchisees with these things in common:
A strong commitment to the Caltex values and operating standards
Sufficient financial resources, business experience and marketing skills
An open mind and willingness to learn and grow with Caltex
Check out how Caltex Franchisees are succeeding in South Africa:
How much does it cost to own a Caltex Gas Station Franchise?
Surprisingly, there's no Franchise Fee or Royalty Fee in the Caltex Franchise program. However, the minimum investment required to start a Caltex gas station business is P5 million to P7 million. This will of course depend on the size and location of the gasoline station.
Caltex Franchisees retain complete ownership of the land and business operations. They can even customize the marketing and promotional offers.
Regarding stores or restaurants that can be located in the gas station, Caltex's solid partnerships allow franchisees to co-brand with popular restaurants and stores in the Philippines.
The Caltex Franchise (Retailer) Agreement Term is basically for 5 years, and it's open for extension for another 5 years under their agreed terms and conditions.
Here are more Caltex Franchise Numbers and Details:
Investment required for Facilities and Equipment:  Approx. P5 Million to P7 Million
Operating Capital required:  Approx. P2 Million to P3 Million
Lot Size/Layout requirements:  This must meet a minimum design layout of 1,200 sqm.
Frontage size requirements: Minimum of 40 meters.
Lot Lease Agreement requirements:  The agreement must be secured for a term of minimum 10 years.
Buildings and Structure requirements:  These must be constructed by the Franchisee in accordance with Caltex's standard design.
Equipment requirements:  These must be sourced through Caltex accredited vendors only.
Signage requirements:  Branding and signage material will be provided by Caltex.
How long does it take to build a Caltex Gasoline Station?
Well, this will naturally depend on the size of your gas station, the location and the facilities you plan to install (additional store or restaurant, etc.).
It usually takes around 6 months to complete a basic Caltex gas station.
If you as the franchisee already have an existing station, which you will convert into a Caltex station, then the average time required to build and convert is aprox. 3-4 months.
What are the Business operations of a Caltex Gas Station Franchise?
Training: Decided to invest in a Caltex Franchise? Well, after signing the franchise agreement and before opening your gas station, you and your management team will be required to attend a Caltex training course, which takes around 4-6 weeks to complete.
Operating Hours: A usual Caltex gas station has to be open 24/7. The Franchisee has to employ a resourceful (and trustworthy) station manager who will manage the gas station.
Fuel Logistics: Based on your orders via the Caltex Business Center, a Caltex-hired tanker will deliver the fuel products to your station.
Marketing: Caltex offers various marketing programs which the Franchisee can deploy. Caltex also supports the franchisee in local advertisement, up to 50% of the advertising costs.
How to apply for a Caltex Franchise?
There are 7 steps in order to become a CALTEX Franchisee (or Retailer):
First you'll need to submit and present your site location for CALTEX approval.
Then you'll need to apply by completing the CALTEX application form.
They will then conduct an interview with you, at your own home.
Next, there will be a sustainability check by CALTEX (On-the-job training & evaluation).
Then CALTEX will conduct a check of your financial background.
Next, you will need to present to the CALTEX Retailer Selection Board for approval.
Once approved, there will be a ceremonial contract signing, after which you will need to complete a 2-week New Retailer Training Course.
Convinced? Want to sign in and buy a Caltex Franchise? Here are their details…
Contact Details
For more details about the Caltex franchise, contact:
Chevron Philippines, Incorporated
Address: 6/F, 6750 Office Tower Ayala Avenue, Makati City 1226 Philippines
Telephone Number: (02) 867-7710