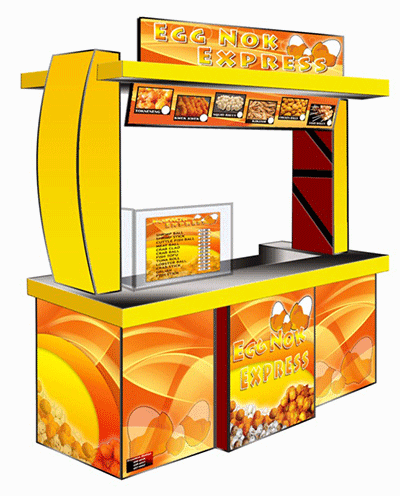 The food cart industry is hailed as today's top small business to start in the Philippines. The absence of complex requirements and set-up, offers an interesting option for people who are aiming to test the 'business waters'. The market trend in the Philippines now also demonstrates that engaging in the food cart industry has now become on one of the top choices of budding entrepreneurs.
Food carts can easily be spotted anywhere. From MRT and LRT Stations down to every corner of the street in the local Barangays, one can instantly enjoy a serving of siomai, pizza, empanada, hotdogs, waffles, and good old comfort foods like mami and rice porridge. Schools and even the churches have now become the tiny hubs where these small and sometimes moveable kiosks have flourished.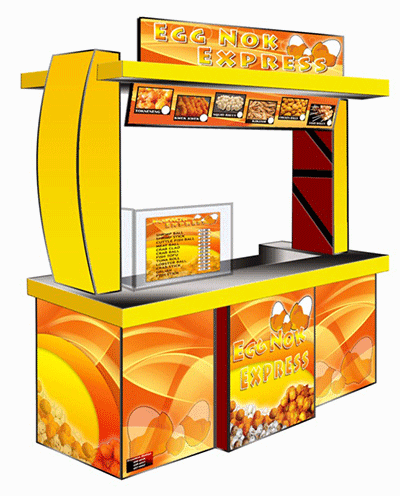 Gone were the days when food carts were only for street food vendors. Even the most unexpected kind of foods have also started to be sold in small and colorful carts. These foods include Filipino all-time favorites such as tapsilog, sisig, and all sorts of rice toppings you can think of.
The food industry has recently revealed that the food cart industry has brought in at least 1Billion Pesos in sales every year. This number alone shows that Filipino people have truly cultivated a keen interest in this type of business. Needless to say, the food cart industry can still compete with any business opportunities online that a person can try.
But what makes this industry appealing? The low capital outlay is certainly one of the reasons. After all, a mere Php 10,000 is what it takes to actually start a food cart business. This already includes an entire package – the cart to be used, the initial products to sell, the training of the crew, and the uniform they need to wear.
Advantages of Setting Up Food Cart Business as Compared to Operating a Full Store
Again, the cost. Food Carts are so much cheaper to start than a small restaurant. The cheapest is roughly ten grands while one can still avail a franchise worth Php 250,000.
Food carts do not require huge spaces. Therefore, there is no need to worry on expensive rent.
They can easily be relocated. Should a problem on location occurs, the owner can literally wheel it out to another spot where potential customers is abundant.
Launching the business is a piece-of-cake.
Expansion is no problem either. It can be done with ease and convenience. And it will remain easy on the pocket.
Food carts situated inside the malls are simply an excellent idea. Being seen by thousands of people everyday can help the business find a market.
Food cart ideas are endless. There is a plethora of products you can sell- from local food to international food-to-go.
Food cart business does not require multiple crews and complex operation. They are so much easier to oversee than a full restaurant.
People who have the capital and the will to know more about the business still need to do a bit of research about running a food cart business. Finding the right product is a good step. You need to find the product that people will never get tired of.
The price of the product you are bound to sell must also match your prospective customer's capacity to pay. If you are aiming to sell to elementary and high school students, then do not even dare to sell food above Php 40. Remember that affordability is one of the top reasons customers patronize the industry.
Be smart about the competition as well. Check which food item is not yet available in the location of your choice. Note that even if you sell the best-tasting siomai on the planet, but if you put it next to another food cart selling the same product, chances are you will not get noticed right away.
In order to maximize your profit and optimize your success, there are some pointers shared by Potato Corner founder Jorge Wieneke. These pieces of advice can help aspiring entrepreneurs prepare for battle of food cart businesses. These advice includes:
Food Cart may be small, but its aesthetic value should not suffer. Make it as attractive as possible. The lack of design usually disinterests customers. Wow their eyes, the wow their pallet.
See to that you have a concept. Selling just any hotdog would not do. Make it a footlong or a flavored one – anything that will strengthen your USP  (Unique Selling Point.)
Make sure that your cooking equipment is of top quality as well. This will be the heart of your business.
Get into the business with a strategy in mind. Write a simple business plan – something doable and feasible. Though it is just a small business, treat it as though you are planning to make a killing.
Cleanliness is paramount. Do not expect people to buy where your place has become a favorite hang out spot for flies and roaches. Make sure that every corner of your cart is all spic-and-span.
Never underestimate the value of a good signage. Wow your clients with bold and colorful letters. Make the name interesting as well.
In any business, there could always be a setback. If the food cart business does not make an interesting profit during the first few days, review the business plan and analyze what could have gone wrong. There are times that a location change can give this issue a quick fix.
This business is by far the easiest to start. If you are looking for an extra income, but are afraid to gamble a huge amount of money, then you may try putting up a food cart business. With all the above-mentioned advantages, this can definitely be inferred to as the best small business to start in the Philippines.
Jack is a self-made entrepreneur, who actually started out in the Military, then worked for the Government for a few years, until he finally made that bold step and started out his own online and offline businesses. He's never looked back ever since, and hasn't been happier…