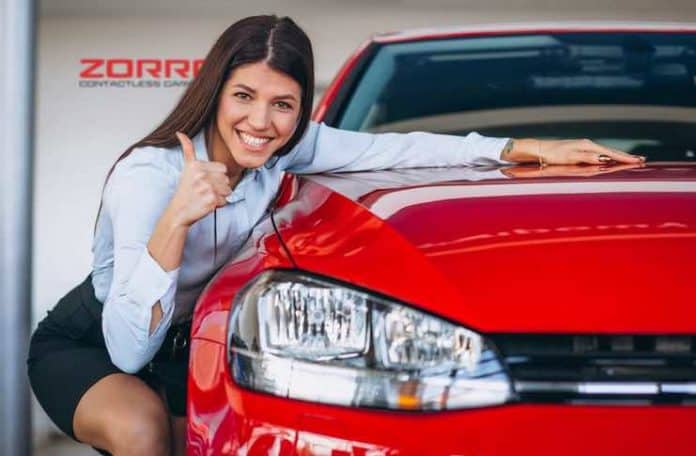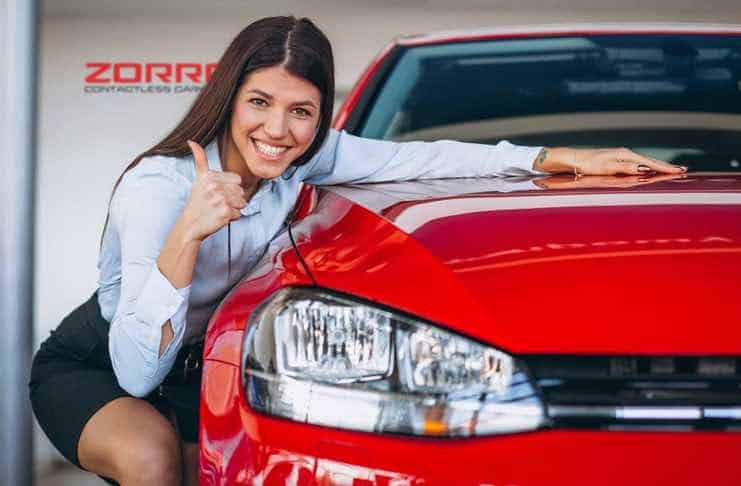 For us Filipinos, our Cars and motorcycles are our utmost treasures. We LOVE them almost like we love our spouses. Based on that alone, we're quite sure that a Car Wash Franchise business could do great in the Philippines. What do you think? Let us know in the comments below. But before that – let us introduce to you a new franchise opportunity in the field of contactless car washing that has lately penetrated the Philippine market.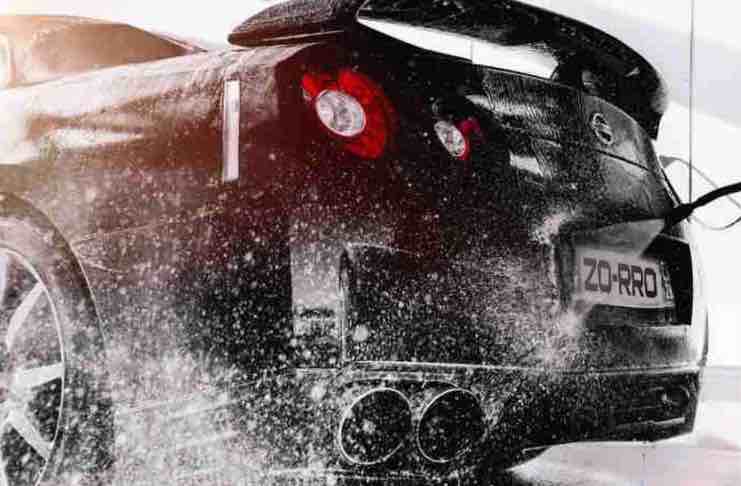 Meet Franchise Car Wash ZORRO, which brings with it a revolutionary and efficient technology that allows very fast and high-quality car washing and waxing. This can mean a significant improvement in vehicle washing services across the country.
Watch this video to learn more about Zorro:
Watch this Intro Video to understand the basics behind ZORRO:
Fast Car Wash and Wax Service at a Good Price
Franchise Car wash ZORRO is a technology based on contactless car washing that is not yet available in the Philippines. Customers will be able to wash and wax a car in just a few minutes.
The ZORRO Contactless Car Wash service is extremely car paintwork-friendly because it's based on a special technology that does not require physical contact with the vehicle's surface. The price of the service is surprisingly affordable and does not exceed the price of competitive car wash services in the Philippines. "This new washing technology has become very popular in Europe and the US in recent years," says Vit Lukas, co-founder of the ZORRO franchisor, Eurimex Inc.

New Car Wash Technology: Contactless Car Paintwork Friendly Method
Conventional car washers in the Philippines use a contact method of car washing and waxing. In doing so, the operator washes the car using water, detergent, and fabric or brush to remove dirt from the body of the vehicle. Then comes the waxing and polish, which is usually manually done or with the help of a rotary machine.
ZORRO Car Wash uses a contactless method in which the car body only comes in contact with specially treated water with various cleaning and preserving agents and dissolved wax. No one touches the surface of the vehicle while it's being cleaned. No cloth, no brush, no machine, only water with various agents. That's why the washing process is called contactless. It's also a very fast and efficient way of washing vehicles.
Watch this clip to understand more about the Contactless Car Wash Technology:
"Contactless washing technology has been developed based on the demands of customers who have complained about car paintwork damages in the past.", says Lukas.
"In a conventional contact car wash method, minor dirt remains between the car body and the fabric or brush. This cannot be prevented in any way. Manual and automated contact methods of washing vehicles always cause microscopic scratches of car paintwork. The fabric or brush together with dirt and dust acts like a sandpaper effect." Lukas adds.
"After several years the color of the car is dull, scratches are gradually more and more visible and the car's body completely loses its original shine. The contactless method of washing eliminates the creation of scratches completely," Lukas promises. According to him, everyone can see this for themselves, because the scratches caused by the contact washing method are visible on many cars. Especially when a strong light source is shining on the car paintwork (sun or a reflector).
How ZORRO Contactless Carwash works?
Zorro Carwash uses specially treated water with a detergent that is heated – in order to remove dirt more easily. The water is then applied under high pressure using a special industrial water gun to the surface of the vehicle. In the next steps, the wax is applied and cured on the car's paintwork with an industrial water gun. Furthermore, other agents preserve and polish the car's paintwork and prevent water from adhering to the body. As nothing touches the car, no scratches arise this way.
Watch this clip to learn a bit about Car Wax:
How Long Does it Take? Wash and Wax Your Car in 5 to 7 minutes
Another benefit of ZORRO Contactless Car Wash is the speed of washing and waxing. A mid-sized car such as the Toyota Vios, which is widespread in the Philippines, can be washed and waxed in five to seven minutes, depending on how dirty the car is. After washing, you can use an industrial vacuum cleaner to clean the car's interior, which takes only a few minutes. On the other hand, in the manual method of washing and waxing a car, customers can actually spend one to two hours to complete the process of washing and waxing their car.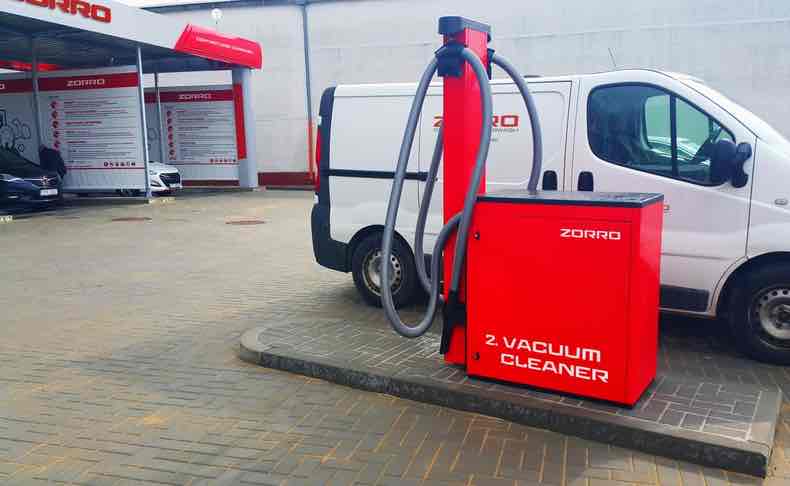 As we all know very well, today – TIME is MONEY. This awesome technology can practically help us save time we would otherwise have to spend waiting to clean our car. "The time saved by the vehicle owner can be spent on his business or with his family. There is a growing demand for these services because time is increasingly a valued commodity in modern society," Lukas points out.
Which Cars are Accepted? Car Wash ZORRO Washes Any Vehicle
The high speed of the ZORRO Contactless Carwash service allows the car wash operator to handle a large number of cars, which means to you as a Business owner: High Profits, even at a lower price compared to competitors.

In addition, the Zorro Car Wash allows you to wash not only cars but also motorcycles, buses or even trucks in a special car washstand. Did you know that at this moment of time, there is no professional washing service for trucks, buses or motorcycles available in the Philippines? Well yes, that's the case. The ZORRO Contactless Car Wash Franchise is practically the first in the Philippines that will offer this kind of service.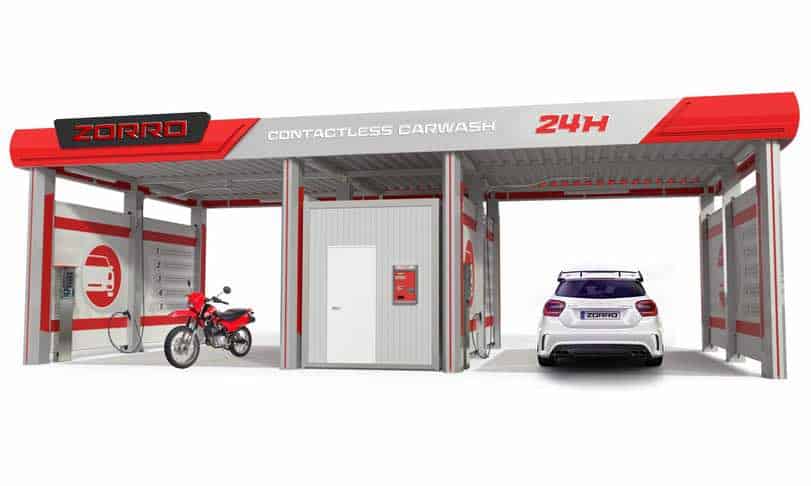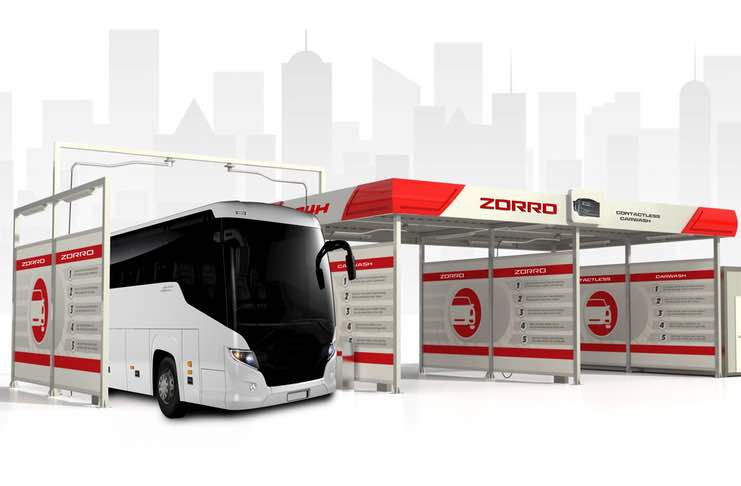 Where Can I Place a ZORRO Car Wash?
Investors interested in investing in a ZORRO Car wash franchise must first and foremost have a place where they can and want to operate. "A place in the neighborhood of a busy road is appropriate. However, ZORRO Contactless Car Wash Station can be used to complement existing petrol stations, which will offer customers additional service. A good place is also a rest area by the highway, where drivers can wash their car, drink coffee and leave with a clean car in minutes," says Lukas.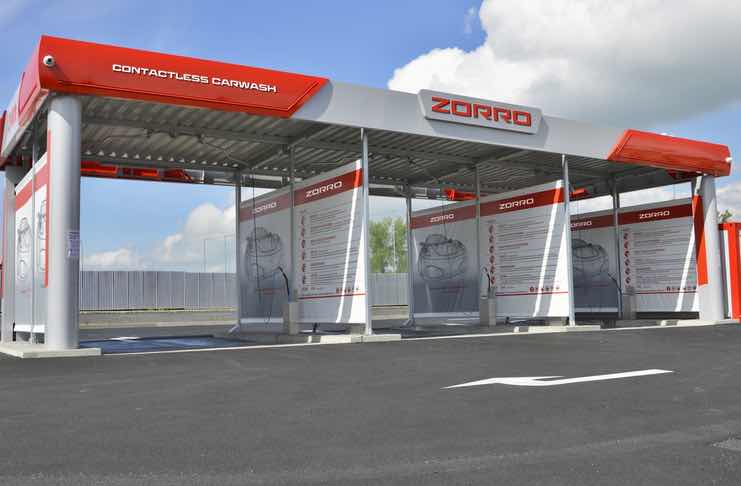 He adds that ZORRO Car Wash can be easily built-in underground or aboveground garage buildings or near parking lots of malls or shopping centers. Companies with a large fleet of cars, such as shipping companies, bus or taxi companies, can also build a Zorro Contactless Car Wash Station, enabling them to effectively maintain a fleet of cars in perfect condition.
The ZORRO Car wash Franchise concept plans to build modern-looking establishments that will look visually different from all the competitors. In the car wash market in the Philippines, it brings a whole new level of service, comparable to the most advanced countries in the world.
ZORRO Car Wash Franchise: Efficient and Proven Project
Watch this clip to learn about the Franchise Opportunity of ZORRO Car Wash:
ZORRO Contactless Car Wash is quite a unique opportunity for investors looking for an operationally simple and highly profitable Franchise project with a fast return on investment (ROI). According to the company, the success of ZORRO Car Wash has already been proven in many countries around the world where it has been profitably operating for more than 10 years.
Fast Return on Investment (ROI)
Investors interested in ZORRO Contactless Car Wash Franchise can choose from many different options. The smallest possible ZORRO configuration for the Philippine market is a car wash station with 2 washing stands. However, it's also possible to build a large station, for example with 4 or 10 car stands, complemented by one or more stand for large vehicles (BUSES, TRUCKS). According to Mr. Lukas, Return on Investment is possible in the range of 6 to 12 months. A ZORRO Car Wash Station can be launched within 6 months from signing the franchise contract.
"The ZORRO franchise concept has been created specifically for the Philippine market, and a renowned Philippine agency has contributed to its creation," says Lukas.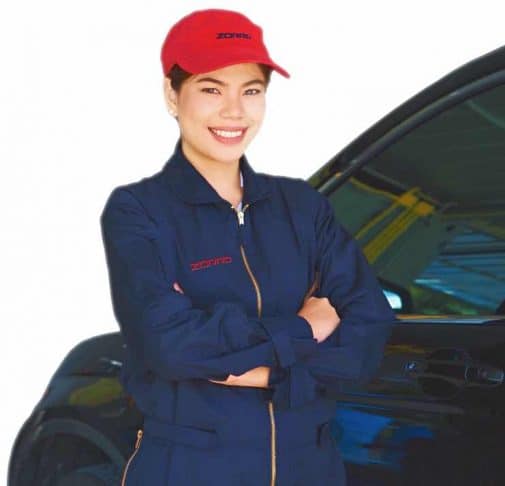 ZORRO Contactless Car Wash Franchise Numbers and Details
Investment required for Facilities and Equipment: Approx. P4.8 Million

Franchise Fee: P100,000.

Operating Capital required: Approx. 200,000 for 2 compartments station.

Lot Size/Layout requirements: This must meet a minimum design layout of 90 to 562 sqm for 2 compartment station.

Frontage size requirements: Minimum of 68 meters.

Lot Lease Agreement must be secured for a term of a minimum of 10 years.

Buildings and Structure must be constructed by the Franchisee in accordance with EUIRIMEX Inc. / ZORRO standard design.

Equipment requirements – must be sourced through EURIMEX Inc. accredited/certified vendors only.

Signage requirements – branding and signage will be provided by EURIMEX Inc.
How to apply for a ZORRO Contactless Car Wash Franchise?
Steps in order to become a ZORRO Contactless Car Wash Franchisee:
Submit and present your site location for EURIMEX Inc. approval.

Complete the EURIMEX Inc. application form.

Interview with EURIMEX representatives.

EURIMEX Inc. will conduct a check of your financial background.

Once approved, contract signing.

Training Course.
For more information of Zorro Carwash franchise and its technology visit the website or contact a representative of the company EURIMEX Inc. via e-mail.
Website: www.franchisingcarwash.ph ; https://www.eurimex.ph/zorro-contactless-carwash
Contact owner of Franchise: zorrocarwash@gmail.com ; eurimex@eurimex.ph
And keep your cars clean! 🙂
A graduate of Marketing Management who tried his luck with Sales and soon found himself writing for a living. He began as an Academic Writer before turning into online content and getting serious with his own blog. He daydreams of embarking on an exploration of what the world has to offer while finding inspiration to put his thoughts into writing. He currently contributes for WhenInManila.com. You can check his own blog at themusescamecrashing.wordpress.com.