This community based drugstore was founded by a couple who lives in Laguna then. Offering cheap but effective medicines that are very affordable for every Filipinos. Generic medicines and also those that are BFAD and DOH approved ones as well, are what the company offers. It basically caters to middle to low income brackets but definitely could compete to the higher income groups. Since Johnston Pharmacy has started operating, it has became popular and gained strong customer base in Laguna, Metro Manila as well as other provinces it has expanded to. The company does not only offer cheap and effective medicines, but it offers information and advice as well, to assist their customers in their medication maintenance. Johnston Pharmacy has a wide array of cosmetics, toiletries, health and personal care products as well as medical supplies.
If you are a goal oriented, highly motivated, business minded and hands on type of an entrepreneur, then you are invited to avail of Johnston Pharmacy Franchise. 
Franchise Details: 
Franchise Fee of Php 250, 000

 
Inclusive of:
Right to use trade name
Approval and evaluation of site
Training Program for the Franchisee, Pharmacist and its Staff
Marketing Assistance
Pharmacy's Pre Opening and Grand Opening Assistance
Manual of daily operation
Franchise Fee
Development and Product Research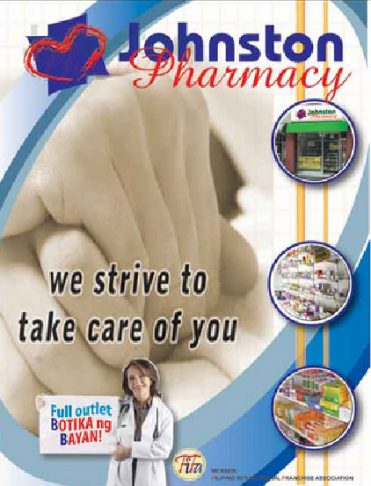 What are Johnston Pharmacy Franchise advantages?
Business will never be affected by normal market trends since it is a basic need.
Its Franchise support is reliable.
Return of Investment is guaranteed.
The quality of affordable medicines it offers is saleable.
There is minimal overhead cost, which is low risk.
Security provided in its effective inventory system.
The method of success Johnston Pharmacy uses has been tried and tested.
A minimum of 15 square meters is the required space of the pharmacy. The initial Johnston Pharmacy Franchise term is 6 years, and it does not require any loyalty fees to its franchisees.
Contact Details
If you need information regarding the Johnston Pharmacy Franchise, you may contact them through any of their contact information below:
Website: www.johnstonpharmacy.net
Email: hi5_ent@yahoo.com.ph, christine_ceo@johnstonpharmacy.net, inquiry@johnstonpharmacy.net, ricky_vp@johnstonpharmacy.net
Phone No.: (049)837-2584,  (02)520-8461
Mobile No.: 0917-6164 841
Address: Unit 829 Plan Bldg. Macabling, National Highway, Macablin, Sta. Rosa, Laguna, Philippines
Jack is a self-made entrepreneur, who actually started out in the Military, then worked for the Government for a few years, until he finally made that bold step and started out his own online and offline businesses. He's never looked back ever since, and hasn't been happier…