In 1976, Gymboree Play Programs has begun. The founder one day planned and put together developmental based and well structured programs and started teaching a local basis class in California. A few years after that, it expanded its horizon and opened up its door for franchising, its program is unique and that what makes it continuously growing. Gymboree Play and Music now boasts of 712 locations in more than 40 countries to date.
The types of Gymboree Franchise are:
Metro Manila – a huge range of developmental programs are readily available in this type of franchise. Including levelled developmental play program that is based on ages, music, art, pre-school program and sports as well. Gymboree Play and Music programs are designed only in suburban clientele.
Emerging and Provincial Markets – the centres are located in smaller locations, thus make the programs being offered limited.
Investments vary depending on the type of Gymboree Play and Music a franchisee plans to purchase. Costs will be all inclusive for Metro Manila location: franchise fee, marketing materials, insurance, office and location set up, training programs, product resale, computer systems, software, etc. (Php8,000,000 to Php 10,000,000 Million)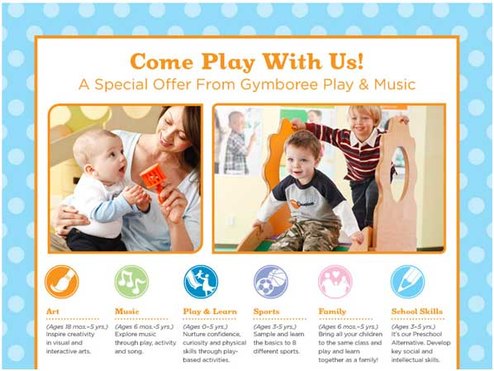 For locations in the province, Gymboree Franchise will cost Php  4,000,000 to Php 7,000,000. And include the same support as in Manila location. Gymboree Play and Music does not assist in financing of the franchise fee, full amount must be shouldered by the franchisee. The company recommends centre locations that are inside the malls and shopping centres as commercial areas represent the company best and the potential to bigger market is great.
One of the supports Gymboree Play and Music offer is once a year Business training program (aside from the compulsory training in pre opening).
Support Gymboree provides to its franchisee:
Program needs
Operations
Product resale
Hiring personnel
Personal support
Internet and intranet tools assistance
Gymboree Franchise payback period depends on many factors like total sales, center location and clientele types to name a few.
Gymboree Franchise: Contact Details
If you're interested with the Gymboree Franchise, you may contact them through the details provided below:
Website: www.gymboree-ph.com
Email: franchising@gymboree-ph.com, ann@gymboree-ph.com
Phone No.: (02)635-6240, (02)817-0951 loc. 251
Fax No.: (02)910-0450
Address: 17 McKinley Road Forbes Park, Makati City, Philippines
Jack is a self-made entrepreneur, who actually started out in the Military, then worked for the Government for a few years, until he finally made that bold step and started out his own online and offline businesses. He's never looked back ever since, and hasn't been happier…