Ink-Man Ventures Inc. was founded in 1999 with the vision of providing affordable ink cartridges to solve the issue of having to buy barely affordable ink that would be more expensive than the printer in the long run.  The Ink-Man Franchise is the perfect alternative to these expensive imported cartridges without compromising the quality of the ink.
Ink-Man Refilling Center will continue to be the premier ink product provider in the Philippines.  They also boast its eco-friendly ink recycling system as it effectively met public acceptance.
Now, for some franchising information on Ink-Man Refilling Center
Franchise initial investment is 50,000 pesos with a reservation fee of 10,000 pesos which is refundable. Franchise inclusions are:
the company name and logo
site selection and evaluation
training and development including seminars
tri-media marketing business visibility
research and development
operations manual

inventory control and initial stocks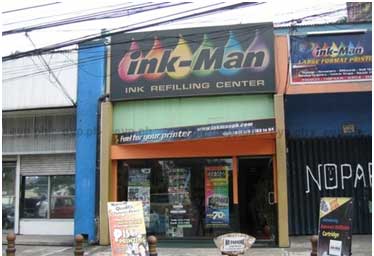 Ink-Man Refilling Center offers a renewable franchise term of 6 months. The preferred site should be located in high traffic and/or residential areas or school zones accessible by pedestrians, motorists and students with a required minimum space of around 4 to 20 square meters for express stores and a minimum of 10 square meters for a regular store.
Here are some of the advantages of availing the Ink-Man Franchise:
A Fast return of investment
Easy to manage
Comprehensive training and development
Strong brand recall

Franchise investment financing
Requirements for franchising Ink-Man refilling center for those interested parties are the following:
A reservation fee of 10,000 pesos (refundable)
2 pcs valid ID
Photocopy of business permits (if there is existing business)
Latest proof of billing
Letter of intent (letter containing an applicant's intention to be a dealer for the business; should come with the vicinity map of proposed location)
Ink-Man Refilling Center has expressed their willingness to franchising by offering a special rule for franchisees. The first 10 applicants, after being qualified in a particular area, shall be given the opportunity to be the exclusive dealer in their selected areas.  This means the customers will be going to your Ink-Man franchise, you'll be the only owner of the Ink-Man Refilling Center within your area resulting to more profit.
Contact Details
If you need information regarding this franchise, you may contact them through any of their details below:
Website: www.ink-man.com.ph
Facebook Page: facebook.com/pages/Ink-Man-Philippines/307896545938287
Email: inkmanventures@yahoo.com, gmalapo@yahoo.com
Manila Phone No.: (02)383-9951, (02)387-1846
Manila Fax No.: (02)374-7103
Iriga Telfax No.: (054)456-1739
Mobile No.: 0922-890-5457, 0922-857-9249, 0923-635-0122, 0917-628-4956, 0947-890-3368
Manila Address: Unit 6-0, Future Point Plaza 3, #111 Panay Ave., South Triangle, Quezon City, Philippines
Iriga Address: Zone 4, San Jose, Iriga City, Bicol Region, Philippines
Jack is a self-made entrepreneur, who actually started out in the Military, then worked for the Government for a few years, until he finally made that bold step and started out his own online and offline businesses. He's never looked back ever since, and hasn't been happier…