The fashion industry in the Philippine has indeed been growing fast these past few years. The crown jewel of Golden ABC, the Penshoppe franchise is now one of the leading clothing brands franchising in the Philippines. It originally started in Cebu back in the year 1986 and due to its wholesome image and its sophisticated designs on casual wears, it subjugated the Visayas and Mindanao clothing industry. Later in 1991, it expanded in Luzon and opened its first store in SM City North EDSA.
For more than 20 years Penshoppe had been known to provide clothes with quality design and globally up to date style. After many years of dominating the fashion industry in the Philippines, it has expanded globally. First, opening a boutique in Dubai, then followed by conquering other Asian country like Malaysia, Indonesia, Singapore and even in Australia. By being such an established company, you will largely benefit and leverage on your investment if you decide to own a Penshoppe franchise. It can also guarantee the financial worth of your money.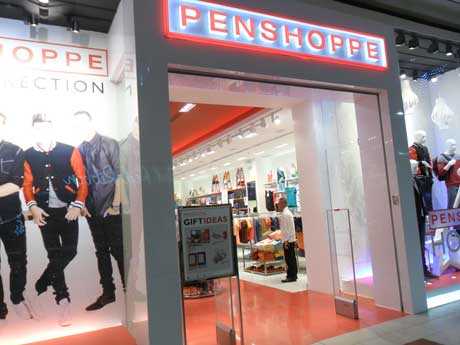 Due to wide selection of sophisticated designs and variety of up to date fashion trend it's no wonder why Penshoppe Franchise is one of the leading fashion retailing companies in the Philippines. Penshoppe Franchise will provide you with the tools and materials you need for the business. With its affordable accessories, clothes and personal care products franchising Penshoppe will not only guarantee you the best for your investment but also the unbeatable trust and the value of your customers' money. For more information, the contact details are listed below.
Contact Details
If you want more information regarding the Penshoppe Franchise, contact them through any of their contact information below:
Website: www.penshoppe.com, www.goldenabc.com
Facebook Page: www.facebook.com/penshoppeofficial
Twitter: www.twitter.com/penshoppe
Email: shop.penshoppe@goldenabc.com
Phone Nos.: (02)422-2800, (02)366-7151 to 61
Fax No.: (02)422-2900, (02)361-4111
Address: PENSHOPPE (Main Office), 1155 EDSA Balintawak, Quezon City, Philippines
Jack is a self-made entrepreneur, who actually started out in the Military, then worked for the Government for a few years, until he finally made that bold step and started out his own online and offline businesses. He's never looked back ever since, and hasn't been happier…