Toby's is owned by Roberto Claudio Sr. which started out as a small store in 1978 selling imported Disney goods in Greenhills Shopping Center. It was first named Toby's Forms and Shapes then later renamed to Toby's Sports and Hobbies.  After sometime, Roberto Sr. and his brothers Jojo and Rod together with his Son, Toby – decided to change the direction where Toby's Sports and Hobbies was going and changed it to the Toby's Franchise.  Now focusing on sporting goods, they began to expand as they were able to build a chain of sports stores nationwide.
Today, Toby's Sports now has more than 157 brands and showcases more than 60,000 items in over 30 branches across the nation. Do you want to be part of a nationwide franchise synonymous to sports? Here are some benefits of the Toby's Franchise:
They offer fast-tracked entry and low risk business with unlimited market potential for growth and profitability.
Their franchise package costs less than other franchise competitors, while you receive essentially the same profit potential.
They are a growth-oriented company with a strong attraction in any shopping destination.
Their franchising network is composed of successful franchise operators in across the nation.
Their philosophy and management systems are geared to the objective of attaining profitability and a high degree of retail sales service.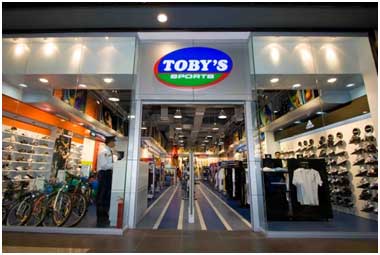 Doesn't that make you want to franchise Toby's Sports? If not, then here are the advantages for you to think about.
As a franchisee of Toby's Sports you will be able to use a highly recognized brand name and logo as the Toby's Sports name has built a strong and good reputation through its experience in the sports retail industry.
Toby's Sports offers a wide range of sports products and accessories that no other sports retails store can provide.
As a franchisee of Toby's Sports, you will receive comprehensive operational and training manuals which are based on a successful and tested operating and franchising system.
Toby's Franchise: How Much?
Initial investment for Toby's Sports is 2.5 million pesos which includes an in-depth marketing study, consultation for site selection, assistance in negotiations of lease, a comprehensive four-week in-store and back-office operations training program, Toby's Sports will provide design and display assistance in the fit out of the store which includes design specifications, floor plans, electrical drawings. Toby's Sports will also provide book keeping and sales personnel training and initial stock load of sports merchandise equivalent to franchisees initial fit-out cost. Included in the initial investment is the national advertising program in all media placements. Toby's Sports will also provide assistance in the store's documentation which includes all internal management accounting, merchandising, sales forms and computer software. They will also provide assistance in sourcing the financing, insurance and medical coverage of the franchise. With all these benefits and advantages, you are sure to get the best out of your investment in the Toby's Sports franchise.
Contact Details
For more information on how to apply for a Toby's franchise, you may contact them through any of their contact details below:
Website: www.tobys.com
Facebook: facebook.com/Tobyssportsstore
Twitter: twitter.com/tobyssports
Email: bobby.claudio@tobys.com, tobysfranchising@tobys.com
Phone Nos.: (02)651-7777 loc. 761, (02)671-9765 to 69
Fax No.: (02)651-7753, (02)651-7750
Address: Quorom Center, Good Harvest Complex, #73 C. Raymundo Ave., Caniogan, Pasig City, Philippines
Jack is a self-made entrepreneur, who actually started out in the Military, then worked for the Government for a few years, until he finally made that bold step and started out his own online and offline businesses. He's never looked back ever since, and hasn't been happier…