Invented and developed by a Japanese national, this fast food (Takuyaki) spread quickly worldwide, China, Macao, United States and Hong Kong due to its delicious and nutritious products. Takuyaki  are cooked in Teppan or Griddles, ready and enjoyed in just a few minutes, customers have grown to love these Japanese balls as they come in handy whenever hunger strikes. Really fulfilling and delicious especially when it is slathered in hot and spicy or sweet sauce and drizzled with mayonnaise. E&E's Takuyaki is priced very affordable too and because of that, caters to every target market from all walks of life! The mania started in General Santos City in Mindanao way back in 1997. The local entrepreneur who owned it believed in the principle "Quality service and quality food" is the secret behind the success of every food retail business. E&E's Takuyaki has grown successfully over the years, and now has a lot of company owned outlets in Mindanao, has a few franchise outlets as well in the area. It is now accepting franchise nationwide to spread the satisfying and affordable Japanese balls it offers.
A definitely unique franchise, with proven track of success and operation is very simple. Offers potential growth and good business that you can call your own, a business you can be proud of. E&E's Takuyaki Franchise, is different and the concept is new from the good old burgers, pizza, and other finger foods. Joining the company in continuing to serve the customers with the quality products it offers will prove to be a good business investment as E&E's Takuyaki has made its name reputable and trusted in the food cart industry since it has opened its doors. 
How to own the Franchise?
Send a letter of intent to the address below as well as the filled up confidential questionnaire to be found on this link: http://www.rkfranchise.com/wefranchise/e&etakuyaki//franchise.php
Address: RK Franchise Consultancy Inc.G/F Minnesota Mansion, 267 Ermin Garcia St.Cubao Quezon City
The management will evaluate the application.
The applicant will be called in for a meeting with the E&E's Takuyaki management for the franchise details further discussion.
Evaluation and site approval follows.
Construction of the cart
Staff training will commence.
The outlet grand opening!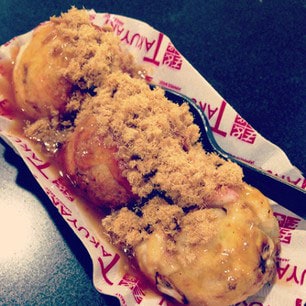 E&E's Takuyaki Franchise Details:
Php 220,000  – Franchise Fee
Inclusive of:
Trade name and proprietary marks use
Approval of the proposed location
Sales Staff, Supervisor and Franchisee training program
Procurement program
Cart with:

Menu Signage
2 Hotplates
Stove
Lantern

Opening Assistance
Business System
Operations manual on loan
Development and Research
5 years and renewable is the initial term, 5% of the gross sales is the Royalty Fee, and required space is minimum of 6 square meters.  (The location must be available upon E&E's Takuyaki Franchise Agreement signing). There is a bond amounting to Php 30,000.
Contact Details
If you have any inquiry regarding the E&E's Takuyaki Franchise, you may contact them through any of their contact details below:
Website: www.rkfranchise.com/wefranchise/e&etakuyaki//index.php
Facebook Page: www.facebook.com/pages/E-Es-Takuyaki/167448236683170
Contact them also through RK Franchising Consultancy: 
Manila Branch:
Email: rk@rkfranchise.com, rkfranchiseconsultancy@yahoo.com 
Phone nos.: (02)912-2946, (02)912-2973, (02)955-0734
Fax no.: (02)911-1966, (02)912-2973
Cebu Branch:
Email: rkcebu@gmail.com
Phone nos.: (032)253-5010, (032)254-0473
Address: RK Franchise Consultancy Inc., G/F Minnesota Mansion, 267 Ermin Garcia St., Cubao, Quezon City, Philippines
Jack is a self-made entrepreneur, who actually started out in the Military, then worked for the Government for a few years, until he finally made that bold step and started out his own online and offline businesses. He's never looked back ever since, and hasn't been happier…