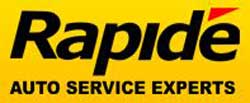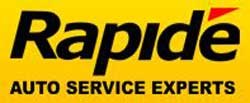 The automotive industry here in Philippines is fast growing these days. With more models coming out in the market, having a business that provides the proper care and maintenance of autos and vehicles is a good way to invest your money on. Obtaining Rapide franchise will get you to own an auto service business which provides a wide range of quality automotive services and assistance that aids the automotive owner to proper handling of his car. Other services includes the classic maintenance services such as radiator flushing, change oil, wiper blades and other traditional way to keep your car on its shape; Brake inspections; inspection of steering wheels and other parts and replace of broken parts with imported products; and Tire and Battery inspection and services.
Rapide Auto Service Experts started on January 1998 and due to its speedy astounding appeal of fast automobile repair services they expanded the business. They also open new doors to franchising Rapide Auto Service Experts to all business enthusiasts. They are under the management of LICA MANAGEMENT AND HOLDINGS, INC. a divergent group of businesses concerning Automotive, Hotels & Restaurants, Real Estate, Computer System and Banking and Finance industry. Rapide provides a state of the art gears that are operated by highly skilled and qualified technicians who have undergone international training. Serving many satisfied clients, Rapide is now operating for over 50 branches in Luzon, Visayas and Mindanao.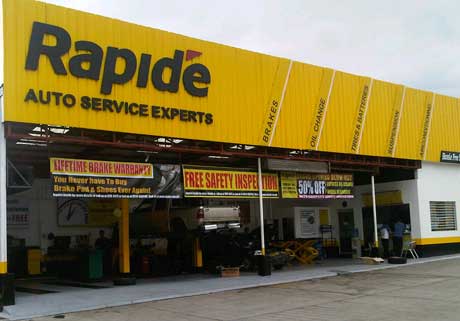 Automotive industry is rapidly growing nowadays, thus investing in Rapide franchise will be a good way to grow your money.  Franchising with Rapide will give you the benefits to select your own location with the help and guidance of Rapide Franchise Development Manager.  Construction and designing of your building is done through the help of outstanding personnel of Rapide who are fully knowledgeable of the said industry. Assistance in ordering your equipment is being included in the franchise package as well as counselling by the Area Manager. Full pre-opening support when you open your shop is part of the excellent service inclusive in their franchise package.
Franchising also includes guidance and support when you run your business. Help Desk assistance and online help is being provided by Software Support (fee applies). Assistance of highly trained call centres agents by Rapide's Technical Support Group when it comes to Consumer Relations and for managing or handling of different customer-related as well as business-related matters. Seminars to educate and train your staffs are available and information to improve your business performance is also provided. With these benefits you are sure to have a hundred percent return on your investment. With the #1 automotive service provider of the country, obtaining Rapide franchise is a wise way to invest your money. For more questions, just inquire using the contact details below.
Contact Details
To learn more information about the Rapide Franchise, contact them through their contact details below:
Website: www.rapide.com.ph
Facebook Page: www.facebook.com/Rapide.Auto.Service
Twitter: twitter.com/RAPIDE_AUTO
Email: jpineda@rapide.com.ph, info@rapide.com.ph
Phone Nos.: (02)840-0451, (02)899-4472, (02)895-9486, (02)895-9487
Fax No.: (02)895-4487, (02)895-9434, (02)899-2468
Mobile No.: 0918-9RAPIDE
Address: 1166 Chino Roces cor. Estrella Ave. Makati City, Philippines
Jack is a self-made entrepreneur, who actually started out in the Military, then worked for the Government for a few years, until he finally made that bold step and started out his own online and offline businesses. He's never looked back ever since, and hasn't been happier…