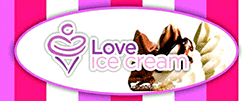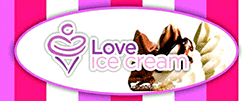 I Love Ice Cream is a premium quality soft serve ice cream parlor. It is always a profitable investment as it is now the top choice of every individual. Who doesn't love ice cream? Children and adults alike love having it at any time of the day to refresh themselves especially when it is scorching hot, or they just want to have something as a snack or dessert. Ice cream comes in many different flavors: chocolate, vanilla, ube, cheese, mango, strawberry.. name it! Ice cream makes our life sweeter and refreshing indeed especially when it is shared with your friends or loved ones. A dull meeting or the like will be brightened up instantly the moment ice cream is served! I love ice Cream's products are not only refreshing, they are reasonably priced, well presented and taste really good so customers won't regret the experience!
Most soft ice cream franchises do great business in the Philippines due to our hot climate nearly all year round and our soft ice cream season never goes out of fad (ever)!!! Thus, overall profile of I Love Ice Cream brand which is possibly giving tough competition to the top ice cream franchises clearly reveals that starting its franchise is a good choice for those entrepreneurs who want to start their franchise business with minimal investments.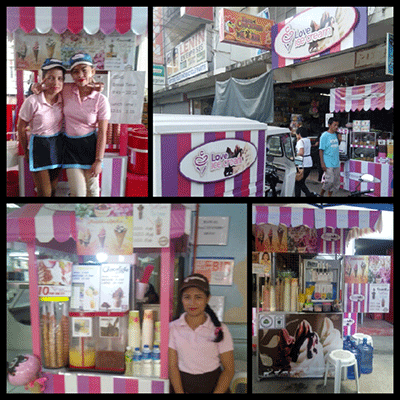 I Love Ice Cream Menus and Products:
CONE
Wafer cone
Sugar cone
Belgian waffle cone
CUPS/FLOATS
Sundae cup
5 toppings sundae cup
Choco float
New Soda Floats
Flavors: mochalatte, watermelon, citrus punch, red velvet & blue lemonade.
New Mountain dew float
Palamig Juices:
Chocolate, Buko Pandan & Pineapple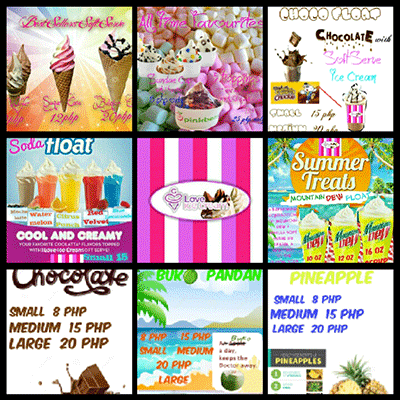 I Love Ice Cream Franchise Package
Food cart franchise – Php 250,000
No Royalty FeeNo Hidden Charges
RETURN OF INVESTMENT (ROI) is within 3 to 4 months.
Renewable for another 2 years with a fee of Php 50,000
SUCCESS RATE: 90%
Costing and Pricing:
Our soft ice cream premix per kilo is P170/kl – which makes 60 cones x Php 10 SRP/cone = Php 600-Php 170/kl
Profit Margin = P430/kl
I Love Ice Cream Franchise Inclusions
1 unit 3 nozzle (3 flavors) table top Heavy Duty Soft Ice Cream Machine.
1 food cart
2 sets of Crew uniform w/ brand name logo
Operation manual & video training
Sets of Menus & Price tags
2 sets of Acrylic Container
1 storage box
2 mixing pail
1 whisk
1 bell
3 confectionery canister
1 syrup dispenser
Initial Stocks
25 kilos Different flavors of soft ice cream premix powder
1 box wafer cone
1 box sugar cone
1 box Belgian waffle cone
1 box 8oz, 12oz, &16oz cups (for floats )
1 box sundae cups
1 kl chocolate juice powder
1 kl buko pandan juice powder
1 gal choco dip
1 pk mini mallows
1 pk mini nips
1 pk stick o
1 crushed cookies & cream
1 pack choco kisses
1 pk straw
1 pk sundae spoon
CONTACT DETAILS
Facebook page: www.facebook.com/iloveicecream
Email: iloveicecreamcnc@gmail.com
Phone Nos.: 0926-8261543, 0975-1262071
Address: Tomas Claudio St. Zone 1, Zamboanga City, Philippines
I am a content writer who is goal-oriented and passionate in what I do. I use my hard outer shell to guard me against deception and betrayal. The moment I start, I rarely look back. I strive hard to live up to the high expectations that others expect from me.