Dubbed as the world's largest chain of modern Thai restaurants, its incredible menu selection is renowned globally. One of them is Massaman Curry, named Number 1 world's most delicious food by CNN. In this company, it is all about the customer. Thai Express thinks of what is best for the customers and implements it in their everyday operations. Only the most relaxing ambience is offered to the customers so they can enjoy savouring their delectable dishes made from best and freshest ingredients available. What's great is, they offer foods at very reasonable prices. Thai Express wants to emphasize that good dining experience need not be costly.
Thai Express concept is more than a restaurant to dine in, it is also a good destination where you can interact with friends, family, and loved ones while enjoying the mouth-watering food they offer and of course the undeniably good service, Thai Express strive to provide its loyal customers through the years. Thai Express is a multi-awarded establishment with the following awards in its wings: "Thai select brand award" which is by the Royal Thai government, "Singapore Promising Brand Award", "Excellent Service Award", and its chefs have garnered multiple prestigious and most coveted awards too!
The mission Thai Express wants to achieve is for their loyal customers and regular diners to have pure fun. Enjoy the savoury dishes it offers, intricately designed and cooked to suit every diner's palates. To date, Thai Express has more than 20 branches all over Asia: Singapore, China, Malaysia, Vietnam and looking to expand to more in the future.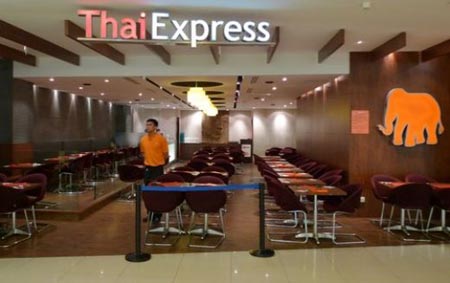 Thai Express Menu
Tom Yum Talay (Seafood Soup)
Kaeng Chued Gai Jiew (Sliced Chicken in Broth)
Tom Klong Pla (Sliced Fish in special tamarind and herb soup)
Poo Tod Kratiem Phrik Thai (Soft shell crab with chef's secret batter)
Peek Gai Yud Sai 9Crispy Chicken Wings)
Roti Krob (Crispy Roti stuffed with minced chicken salad)
Poo Cha (Deep Fried minced crab meat and chicken cake with plum sauce)
Kraphoa Gai Kai Yeow Maa (Stir fried minced chicken with Thai basil and century egg)
Ka Nah Phat Gapi (Sauteed kai lan with shrimp paste)
Gai Phat Med ma-Moung-Him-Ma-Phan (Sauteed chicken with cashew nuts)
Khao Niao Mamuang (Sweet glutinous rice with fresh mango and coconut milk)
Man Cheam (Steamed sweet tapioca with coconut millk)
And a whole lot more!
Thai Express Franchise reported to yield an average of a couple of years Return On Investment. It has a huge potential due to its history of more than 500 years, and it is renowned globally, this is indeed a reputable brand to which is a good factor in choosing your franchise business. It is very easy to operate, and the on-going support from the franchisor is strong with open communications to ensure the business is going smooth for the franchisees. Thai Express Franchise system is one of the most innovative in the world these days, it has been formulated, tried and tested and have one goal in mind, to make the franchisees succeed and profitable at the same time. The management system and mentoring programmes it offers make sure that the franchisees will enjoy the low business risk with strong structure of support and on-going assistance.
Thai Express is looking for individuals that share the same passion and drive as the company. It is the proven formula of success the food business needs, or any other business for that matter. It would be an advantage if the candidate has previous experience handling a restaurant. The franchisee must be more than 100% committed at the work he does, or to his investment. Preferably hands on in the business to ensure smooth flowing operations with good profits. Must have enough capital to start the business up and sustain it.
Franchise Details
USD 175,000 – USD 500,000 Total Investment
USD 30,000 – USD 40,000 Initial Franchise Fee
6% Royalty Fee
1% (Local) + 1% (National) Advertising Fee
10 years Term of Agreement
If interested in Thai Express Franchise, write to franchising@theminorfoodgroup.com – and provide the following information:
Intended market indication and brief analysis on the new market potential
Self or team introduction
Show of capital
Thai Express team will reply as soon as possible to franchise enquiries.
Contact Details
Contact them below to find out more about the Thai Express Franchise:
Website: www.thaiexpress.com.sg
Facebook Page: www.facebook.com/ThaiExpressSG
Email: franchising@theminorfoodgroup.com
Phone No.: +65-6238-0525
Fax No.: +65-6238-7018
Address: 2 Alexandra Road, #05-04/05 Delta House, Singapore 159919
Contact them also through U-Franchise:
Website: www.ufranchiseasia.com/#!thai-express-franchise-business/c10wi
Email: franchising@u-franchise.com.ph
Phone No.: (02)634-0586, (02)634-3717
Mobile Nos.: 0920-983-0247, 0917-881-6999
Address: Unit 2807 Jollibee Plaza, F. Ortigas, Jr. Road, Ortigas Center, Pasig City, Philippines
Jack is a self-made entrepreneur, who actually started out in the Military, then worked for the Government for a few years, until he finally made that bold step and started out his own online and offline businesses. He's never looked back ever since, and hasn't been happier…