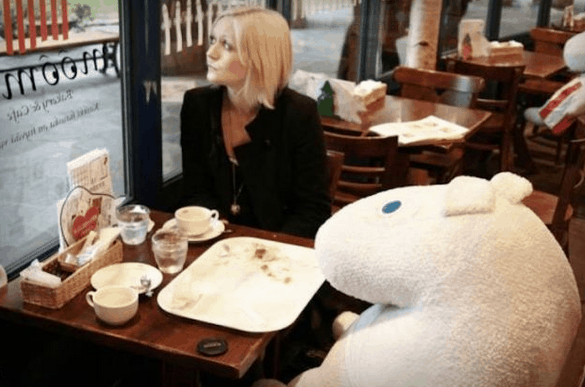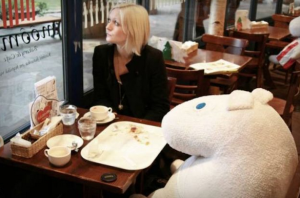 Spaghetti diner PiaPia is banning couples and lovey-doveys from dining on the coming Christmas eve (with no exceptions at all!) to spare all the singles out there as well as staff from the "severe emotional trauma" of eating and spending the Christmas eve all by themselves. Spaghetti diner PiaPia, is a restaurant located outside of Tokyo and is the latest among all restaurants who decided to join the "anti-loneliness" trend all over Japan and all over the world for that matter. Anti-loneliness is a phenomenon that tries to get rid of the stigma of dining in public alone by offering the customer an inanimate or stuffed animals (as a companion) or table for only one.
In news, it has been mentioned that there's a sign outside Spaghetti diner PiaPia that the restaurant is banning happy couples who are flaunting their love for each other on the said day with a drawn image of a man and a woman holding hands with a huge red "X" sign on it. It has been reported that Christmas eve is one of the seasons when couples are displaying their public attention makes it all the more difficult and bearable for depressed and lonely singletons in the country. The said restaurant has several branches scattered in Japan and most recently opened an outlet in Hong Kong. A restaurant in Amsterdam in the previous year started doing this strategy to address the (long-standing) stigma of eating in public alone especially during the holidays, and offered tables for one. This concept has been a huge success that earned pages in the headlines globally in an attempt to help out single guys and gals who do not have anybody to share the special holidays with. This concept continues in the Netherlands, and now in Japan, to be followed by restaurants around the world for sure.
I am a content writer who is goal-oriented and passionate in what I do. I use my hard outer shell to guard me against deception and betrayal. The moment I start, I rarely look back. I strive hard to live up to the high expectations that others expect from me.